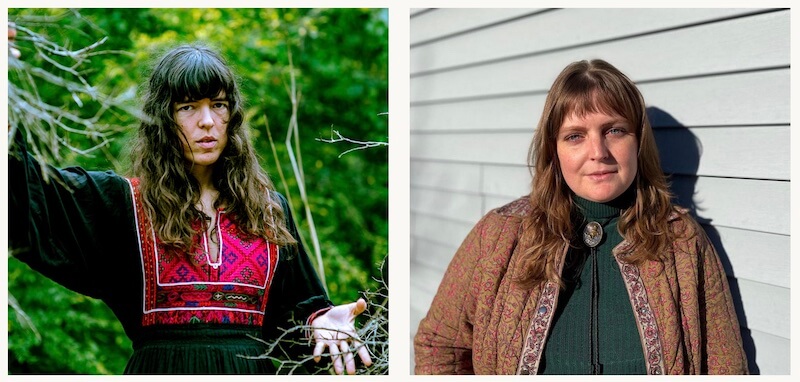 Little Mazarn's most recent record Texas River Song is a self-proclaimed "geographic love letter," and while the Texas landscape absolutely undulates from their gossamer-gentle, loose-and-tight folk tunes, on each spin I hear a new texture or lyric tethering my ear somewhere new and wholly unexpected—a "meanwhile, back on the ranch" cut to another planet. Recently, they took these incredible songs on the road. I was deeply bummed to miss their stop in Nashville, so I reached out to songwriter Lindsey Verrill, who also recently partnered with Dear Life Records for Texas Gold: A Comp Benefitting Whole Woman's Health of Texas, to catch up about our new records, their most recent tour, and anything else that may come up.
The result is an email conversation with Lindsey spanning a few weeks in which we both saw Lucinda Williams perform for the first time. We talked about how this coincidence felt serendipitous, but didn't quite identify why. Is it that we're both Texas songwriters (Lindsey in Austin byway of Dallas, myself growing up in Kerrville and Austin)? Is it that Williams herself claims to champion beautiful losers, and Lindsey and I are beautiful losers? Whatever the reason, the love for Lucinda, for the state of Texas, for poetic magic tricks, and for each other's music felt palpable throughout our exchange. Other unexplored coincidences include the fact that we both play flute. A conversation for another time, perhaps. —Lou Turner
Lou Turner: My beginning question is at the end of your record: who are the "Woodmen Of The World?" If you know, and if you do… if you can tell me? I love this song so much — a firehouse party, Dairy Queen fries in the morning, and making god laugh with our plans. Is there a particular Texas Dairy Queen you thought of while writing this one? It made me picture the one I grew up going to after school for dipped cones in Kerrville, TX.
Lindsey Verrill: When I was a kid I was obsessed with cemeteries. There was one by my house that had all these gravestones that look like tree stumps and those were my favorite. Maybe you've seen one? They are usually taller and kind of imposing, lumberjack or tree-themed and emblazoned with a plaque that reads 'Woodmen of the World' over the person's name. I read recently that it was a life insurance policy that provided headstones to men who died young with no family. I didn't know that when I wrote the song but there's probably a Woodmen of the World part two coming with this sad realization.
The line about free fries at the Dairy Queen was one of my attempts to write something using this poetry trick that I have forgotten the name of, maybe you know it? It's where you break a line up in the middle to make it have two meanings. Another one that I used when writing songs for this album was 'a dog with one eye/trained on the master' but 'open all the doors except the ones to get free / fries at the Dairy Queen in the morning' was kind of a silly one but also dark, right? Sometimes we're opening all those doors.
For some reason I alway pay attention to someone's reflexive songwriting perspective. I have noticed that you write from the second person perspective (I noticed this on Songs for John Venn too) but on this record you shift to first person towards the end where the songs are more intimate and introspective. I guess my question is, when you are writing, who do you envision 'you' to be and when you say 'I' are you always talking about yourself?
I really hope our generation of musicians and human beings see the fall of gender terms in our lifetimes but am also rooting for the end of musical 'genres'. Still, I noticed the press quote on your record called it 'indie rock.' Hmm.. Maybe there's something I don't know because I've never seen these songs performed live but I hear poetry-forward-California-golden-country with jazz and chamber music textures, exquisite forms and intuitive guitar playing… I bet some people would call both of our musics 'folk' as well but I dunno. How do you see it?
Did you write these songs at home? I get so many visuals listening to this music. What is the place like where you wrote these songs? What is the light like? What time of year was it? Do you feel like you were a different person then?
By the way, I have been to the Kerrville Dairy Queen. Recently. It ruled.
Lou Turner: That poetry magic trick is called enjambment, and the word always makes me picture jam dripping down a door jamb. Some double meanings are more exciting than others I guess.
As I write you back, I'm listening to a recording you shared of Vic Chesnutt's last show at Central Presbyterian Church in Austin, Texas, where your release show will be in November. It's a stunning performance, and it seems like the space is such a sacred part of it. Have you played there before? What are some of your favorite spaces to play in? And recent favorites from the long stretch of touring you all just finished?
I love your question about reflexive songwriting! I hadn't noticed that the 'you' dissipates and the 'I' comes out toward the end of Microcosmos, but it makes sense to me. I think that I sometimes use 'you' even when I'm talking to myself; maybe when I'm feeling distant from some part of myself and coaxing it back. I think of using the general 'you' as a way of talking to myself where I can be overheard and eavesdropped on by the listener, like I hope they might be interested, too. I like the distance that 'you' allows and how roomy it feels. I think for me the "I" is more often than not me, but hopefully there's enough wiggle room for the slipper to fit someone else who might want to be the protagonist. What about you?
Yes, these songs were written around the house and in the backyard. It was pandemic-time, so that was part of it, but I also like being at home and thinking about domesticity as a kind of explorative, world-building thing and not a trapped or contained experience. What else? Well, I sure wasn't the only one but I was learning to make sourdough bread. Haha. When you asked about light I pictured the light coming through the "windowpane test" which is when you're kneading dough and holding it up to see if the light is coming through. "Hot Soup Cold Bowl" was written in my bedroom facing the west-facing windows so it was all golden and red.
I agree that genre terms can be so reductive. But I do think place-based genres are the best ones, especially Texas — which sure is big enough to hold all kinds of stuff. I know what you mean about indie rock. I think it gets used because I play an electric guitar sometimes and maybe also because I play in the band Styrofoam Winos? We invented a genre term for ourselves called Nice Rock because people kept telling us how nice and cozy we are. I think you guys are cozy too, so maybe both are purveyors of Texas Nice. Like Minnesota Nice but we actually mean it. Just kidding.
I think both of our albums are some kind of country music. I think of country music as being directly tied to a place, even if the lyrics aren't always. "Texas River Song" is traditional and directly referencing the geography of Texas, and you also have this glorious reworking of "Goodbye Old Paint" with Jeff's wistful saw sounding like an open prairie. Your music can be so intimate and still, but it always sounds like it's traveling, moving across spaces, rolling down rivers. This feels so country to me. What made you decide to cover "Goodbye Old Paint," and what are some versions you love?
Lindsey Verrill: Enjambment! Seems like such a clever trick and a wonderful word too. I got obsessed a few months ago, I was dreaming up all my big enjambments lying in the grass at Barton Springs, watching the pecan branches' lazy spiral shadows on the ground. Do you ever look at pecan trees shadows? I swear they're tiny eternal spirals.
That Vic Chesnutt recording is so magical, driven, funny, raw, haunting. Bless the person who hit 'record' on the board that night. His last show. Jeff was there, of course.
Central Presbyterian Church is a downtown church with a high ceiling sanctuary and screamingly bright red carpet. The events director there has made it a long time home to outsider music and when they host shows, it's always good. Vic Chesnutt, Dan Higgs, The Microphones, Jandek…Tom Morello lol. I feel lucky to play in such a special space! It's a church that's holy in all the right ways, a really special venue in Austin.
On our most recent journey a space I really loved was Mississippi Studios in Portland. Have you played there? It's a gorgeous space and you can feel the love and care people have put into it. I also loved the Owl in Brooklyn and of course Nelsonville Music Festival… Nelsonville! I feel like you should play there next. Maybe you have? Every time I tour I think oh yea, I'll be back here for sure but the landscapes always turn and shift, you rarely return, you never return. I'd like to play in those places again though. You never know, I guess.
Recording "Goodbye Old Paint" was fairly spontaneous; it wasn't on the song list for the album. I had been listening to a lot of Arthur Russell and he does a kind of off-the-cuff experimental version of that song and it was stuck in my head that day. I think the chords I put under it were just something I play when I'm improvising and that song came out over them in the studio. The whole recording session for Texas River Song was like that, so free and improvisational.
"Goodbye Old Paint" and "Texas River Song" are both songs that were found (or stolen?) by those songcatchers that were going around the south in the early part of the last century, recording the music of rural geniuses and copyrighting it under their own names. "Goodbye Old Paint" was written by a black cowboy and songwriter named Charley Willis who is buried outside of Austin and was never actually credited for writing the song. "Texas River Song" is sometimes called "Brazos River Song" and there are so many versions, the lyrics and melodies sliding in and out of each other like sand.
I am typing all this on the sly while I work as a substitute teacher. Kids are occasionally asking me if they can go use the bathroom. Most of them are just looking at their phones between giggling and talking with each other. I'm pretty sure no one is writing an analysis of the hero's journey of Hesse's Siddhartha. That's ok. I am secretly anti-school anyways.
For heads, by heads. Aquarium Drunkard is powered by our patrons. Keep the servers humming and help us continue doing it by pledging your support via our Patreon page.