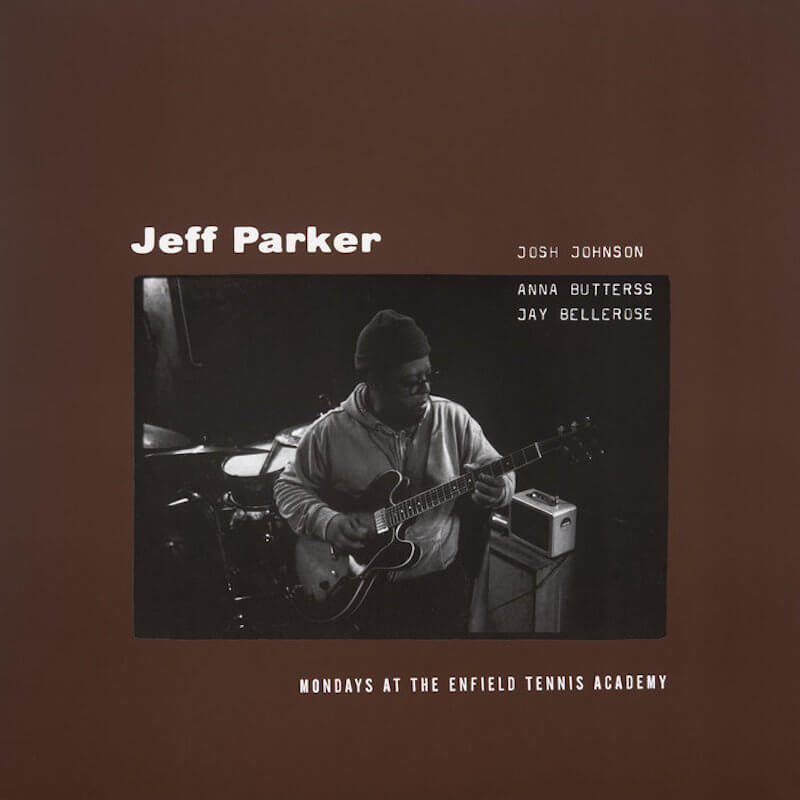 It's been a great 12 months or so for fans of guitarist Jeff Parker. His masterful solo LP Forfolks landed late last year; he contributed to the amazing Psychic Temple Plays Planet Caravan; he added his distinctive sound to Makaya McCraven's awesome In These Times and Daniel Villareal's equally awesome Panamá 77; he produced and played on Anteloper's radical Pink Dolphins; he teamed up with bassist Eric Revis and Nasheet Waits for the adventurous East Side Romp trio session on the Rogue Art label. Parker has had quite a year, to say the least — but he may have saved the best for last.
Mondays at the Enfield Tennis Academy, released by Eremite Records last month, offers up four sidelong pieces recorded live in Los Angeles over the past few years. Here, we get to eavesdrop on Parker, bassist Anna Buttterss, drummer Jay Bellerose and saxophonist Josh Johnson in full freedom flight. It's an uncommonly intimate live recording — the players seem to be extremely at ease in this small club setting. The quartet isn't really going for cosmic moments of ecstatic communion (though those moments do occasionally occur). Instead, they're content to let these flowing, spontaneous compositions blossom at their own pace, unwinding and then somehow re-spooling, again and again into infinity.
There's a meditative and unhurried vibe a la Natural Information Society here. But there's also a sense of quiet playfulness, as Parker leads the group into sections that sometimes feel like they might repeat endlessly, before they fragment into new and beautiful grooves, untold melodies, strange landscapes. This double LP gives listeners an entire universe to explore — one that seems to grow vaster and more dazzling the more you spin it. | t wilcox
Only the good shit. Aquarium Drunkard is powered by our patrons. Keep the servers humming and help us continue doing it by pledging your support via our Patreon page.