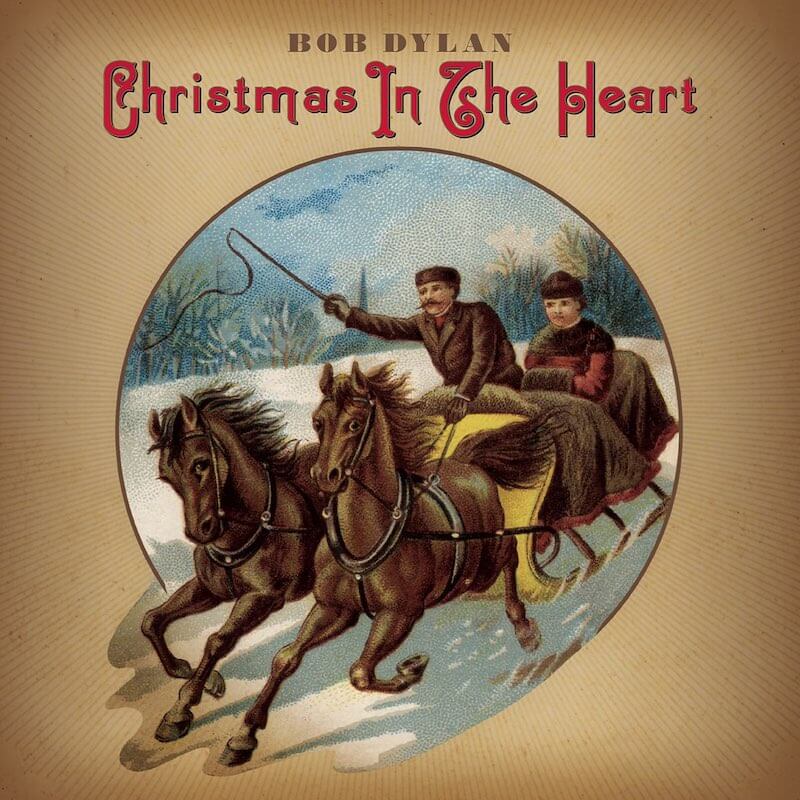 In 1975, the New Musical Express (NME) published a report on Bob Dylan's Christmas album. Even then, the story was a decade old.
It went like this: In the fall of 1965, after releasing Highway 61 Revisited, but before beginning Blonde on Blonde, Bob Dylan recorded a Christmas LP. The album collected Dylan originals, including "Farewell Angelina," and "She's Your Lover Now," alongside Christmas classics, such as "Silent Night," and "White Christmas." Dylan sang "Frosty the Snowman," in an early version of his Nashville Skyline voice and followed it with a reading from the Gospel of Mathew. Rumored participants included Phil Spector, Al Kooper, Mike Bloomfield, Edie Sedgwick, and a young Ry Cooder.
The LP was called Snow Over Interstate 80 and it got as far as an initial pressing and cover art before Dylan pulled the plug. He nixed the whole project, not unlike he did a couple of years earlier, when in 1964 he last minute canceled Bob Dylan in Concert. To reinforce his decision, Dylan threatened to never perform again if Columbia released the Christmas album.
Alan Fraser has the whole story, including the text of the NME article, on Searching for a Gem, his incredible Dylan discography website. The story reads like a Bob Dylan fan fever dream, just detailed, improbable, and weird enough to be true.
But it wasn't. The whole story—LP cover art and all—was a hoax. It was cooked up by jokermen at NME who did a good job of making it all seem so plausible, even while pushing up against the outer edge of the real and reasonable.
The legend survived for a good while. I was slower to catch on than others. Decades after the NME article, busy with the business of trading tapes and CD-Rs, I'd occasionally ask better connected partners if they had a copy of Dylan's secret Christmas album. None of them did. That's because Bob Dylan didn't have a Christmas album. It seemed ridiculous to even imagine such a thing. Nobody really believed Dylan would make a Christmas LP.
Until, of course, he did.
Christmas in the Heart was released on 13 October 2009. Recorded in May, at Jackson Browne's studio in Santa Monica, the album featured the rhythm core of Dylan's touring band, along with guitarist Phil Upchurch, David Hidalgo of Los Lobos, and composer Patrick Warren, who would later play piano in Dylan's band for a gig at the White House. The backing choir is phenomenal and includes particularly strong contributions from Amanda Barrett and Abby DeWald of The Ditty Bops, and Nicole Eva Emery. Their harmonies layer so perfect that you can hardly hear the different voices. They blend supernaturally.
The album's release wasn't totally unexpected. Dylan fanzine ISIS had early, and accurate details in the late summer of 2009. I was intrigued, but suspicious. Modern Times and Together Through Life didn't speak to me like they did to others, and I left a 2006 show in Savannah, Georgia wondering why I followed the Dylan tour, when Merle Haggard was, at that point, so much better on stage.
As it turned out, after a few years in the cold, Christmas in the Heart helped bring me back into the Dylan fold. It reminded me of how fun, loose, daring, and courageous Dylan could be. I loved it from the start. It won me back, and I've yet to stray too far since then.
Jingling bells and humming background singers open the album. Even now, when I hear Dylan start singing "Here Comes Santa Claus," I think "Hot damn! He's really going for it, isn't he?" That feeling never fades. Dylan remains emphatic and joyful and sincere throughout. He's committed to using his voice, that voice, and exploring its power and limitations. Even when he's growling or barking a line, it's clear that he's having fun and that he loves these songs.
The lyric to "Do You Hear What I Hear?" includes a couplet that reads: A song, a song high above the trees. With a voice as big as the sea.
Yes, that's it exactly. I don't think there's a better way to describe what Dylan's doing on Christmas in the Heart. He's singing monumental songs—towering songs that everybody knows—with an enormous voice, maybe the biggest Dylan voice yet captured.
And it's unrestrained. At the close of "Do You Hear What I Hear?" Dylan holds that last note, that last word—LIGHT—for at least seven seconds. It feels like seventy, or seven hundred. It's all the better, even prettier, because Dylan's voice warbles and shakes with sincerity and age and experience. It's one of those things that perfect pitch would ruin for me. You lose the song when it's presented that way.
They're not all winners. "Christmas Blues," doesn't move me. Nor does "I'll be Home For Christmas," although I don't doubt that it's true. Even on those lesser songs, Dylan is convincing. The characters are real. When he sings the line, "I'll be home for Christmas," I expect a reunion and listen for the doorbell to ring.
"Hark the Herald Angels Sing," is a clunker. At least the Dylan parts are. Yet the same song contains what might be the most beautiful passage on the whole album, where the backing singers take a breathtaking solo that never fails to melt me. If you ever need evidence that music is magic, listen for the pause in their delivery of the line: "peace on earth——and mercy mild." I feel the planet stop spinning for the time they use to take that breath.
Anyway, I've got a theory that the best Christmas albums are supposed to miss a couple of marks. They're intended to have a dull spot or two. You can't ever skip those tracks, though. They contribute to the experience and build anticipation. We wait through them, just like we endure the cold and slow December days ahead of Christmas. They add up to make the holidays plural, and bigger than a single day.
"Must Be Santa" is the highlight of Christmas in the Heart. It's the biggest and best gift, the brightest bulb on the tree. It's also the hinge, connecting the LP's two halves, even if the vinyl doesn't split that way. Mitch Miller was the first to put it on a record, in 1960, but Dylan's version copies the Brave Combo's arrangement from 1991. Dylan knew the song for at least a couple of years. He played the Brave Combo version on a holiday episode of Theme Time Radio Hour that aired during Christmastime 2006. The song is a steady boil from the start, with absurd energy. It's fun and funny. I don't think I could ever get tired of it.
The music video is a gas. It was directed by Nash Edgerton, who helmed all of Dylan's best 21st century music videos, including "Beyond Here Lies Nothin'," "Duquesne Whistle," and "The Night We Called It A Day." All are exciting, unpredictable, and violent. They expand the world of the songs.
"Must Be Santa" is the only music video I ever bought on iTunes. It was during that very brief window of technology and time, when buying music videos online and saving the file on your phone seemed like a reasonable thing to do.
I got my money's worth. I've watched the video hundreds of times. With my kids, it's not an annual tradition, it's an annual addiction. We'll watch it together at least two dozen times between now and Christmas. Sometimes, if we're stuck waiting somewhere in the world, and my son becomes antsy and impatient, I'll hand him my phone with the "Must Be Santa" video playing, and he'll watch it on a loop. It occupies and baffles him. The same trick works on my daughter. "Santa's waiting outside!" she once exclaimed at the top of her bright voice, in the middle of a slow and quiet restaurant. The confused waitress arched tall to peer over the booth and out the window. This happened during the middle of summer, maybe August.
It's important to pause here and acknowledge that Dylan sent all royalties from Christmas in the Heart to charities and organizations aimed at fighting hunger and homelessness. Dylan said in a press statement that he hoped to bring "some food security to people in need during this holiday season." As far as I know, proceeds from the album still go to Feeding America, Crisis, and the World Food Programme. That's generous, and admirable. Especially at a time when much of the recent conversation on Dylan has centered on cash headed in the other direction, with the sale of his publishing catalog and master recordings, fugazi signatures on art and hardcover books, and limited edition 10 LP sets for collectors. Christmas in the Heart better reflects the spirit of the holidays, when it feels better to give than to receive.
In retrospect, the album also pointed the way to a future Bob Dylan, and changes in his style and repertoire. Christmas in the Heart shares seven songs with 1957's A Jolly Christmas from Frank Sinatra. Maybe the line that connects Shadows in the Night, Fallen Angels, and Triplicate stretches all the way back to that 2009 springtime in Santa Monica.
Dylan gave an interview to Bill Flanagan to promote the album. Almost all the answers are shorter than the questions. At one point, Flanagan notes that Dylan delivers the Christmas songs straight, and sounds like a true believer.
"Well, I am a true believer," Dylan replied.
Too many people, Dylanologists and civilians alike, took that answer as breaking news and a new admission that Dylan was a Christian again, or still, or whatever.
I don't think he revealed that much or said anything he hadn't said in previous interviews. Dylan just went on longer, and phrased it differently in 1997, when he said: "Those old songs are my lexicon and my prayer book. All my beliefs come out of those old songs." Also: "I find the religiosity and philosophy in the music. I don't find it anywhere else. The songs are my lexicon. I believe the songs."
I don't know if Bob Dylan is a Christian or a Jew or something else entirely. I don't much care, either. Still, it's clear that Dylan is a believer. Bob Dylan believes in the songs. When you listen to Christmas in the Heart, you believe in them too. | j adams
'Tis the season. Aquarium Drunkard is powered by our patrons. Keep the servers humming and help us continue doing it by pledging your support via our Patreon page.