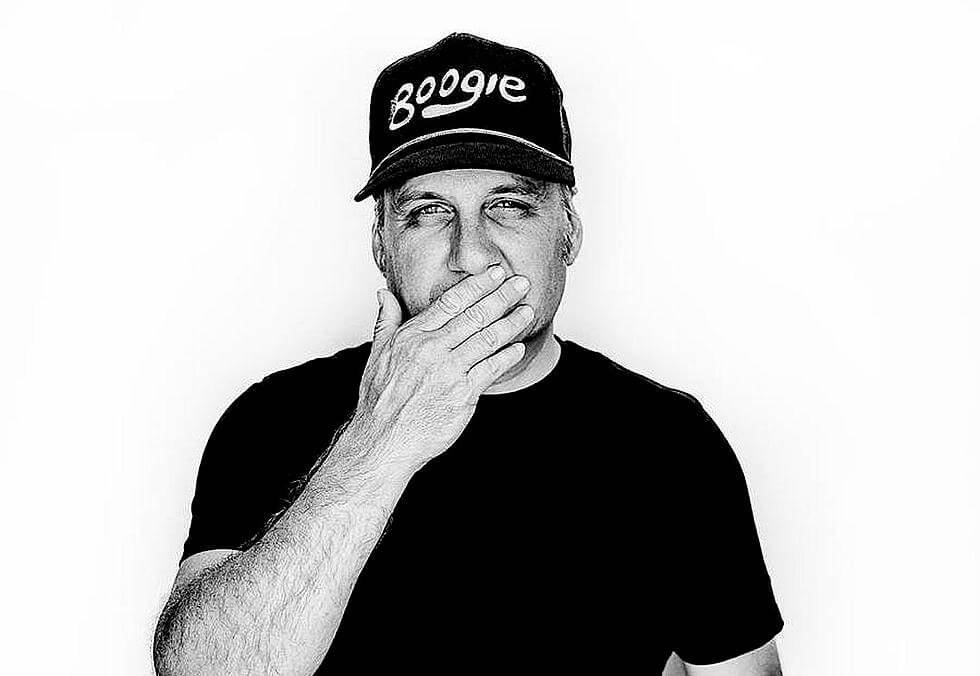 Pavement's celebratory reunion tour last year may have grabbed most of the attention, but the band's co-founder Scott "Spiral Stairs" Kannberg quietly released what might be his very best solo effort in 2022, too. Medley Attack, available on Kannberg's own Amazing Grease label, is a killer collection of sparkling guitar-pop that draws on the classic sounds of Echo and the Bunnymen, The Go-Betweens and even a sprinkling of Motown pep. Beneath its candy-coated, hook-laden surface, however, there's an undercurrent of grief; Kannberg's longtime musical partner Matthew Zeek Harris passed away unexpectedly just before Medley Attack came out. 
Aquarium Drunkard caught up with Spiral in the midst of a transitional period for the guitarist/vocalist. He's in between Pavement tours (the band hits Australia, Japan and New Zealand soon) and he's about to move with his family from the coast of California to Melbourne, where he spent several years in the past decade. Before all that happens, he's taking Medley Attack out on the road for a few west coast dates this month.
When we spoke, the news of Clean co-founder Hamish Kilgour's tragic death had just broken—and since The Clean were one Pavement's formative influences, that's where the conversation began. | t wilcox
Aquarium Drunkard: There's a Kilgour shout-out in the liners of your new album. What did The Clean mean to you?
Spiral Stairs: They were kind of a sneaky influence. I think Malkmus was the first person to let me know about them. I would've heard about The Clean eventually, just because I was working in a record store and it was when all of the Flying Nun stuff was getting out here, all those cool bands that you never would've heard of. Steve was at WTJU and had a show with Bob [Nastanovich], I think, and he said, "You gotta hear this band."
I got the Compilation record first and it really grabbed me how simple the songs were. At the time, Pavement was kind of starting up and we were all about simplicity—kind of because we could barely play our instruments. [Laughs] It was coming from the Velvets in a way, and there was this poppy thing underneath. And plus, the mystery of being from this weird little island in the Pacific added to the whole story. And then I got Vehicle, and that record blew me away. Those songs are just perfect pop songs, but it's still kind of mysterious. I like that about bands, that mystery. 
AD: You guys eventually got to know them, though? 
Spiral Stairs: We were lucky because on the very first tour Pavement did over there, we went to Dunedin and met all these people. We didn't get to play with The Clean then, but we played with David Kilgour and The Bats. And then later on, David played with us on some tours in the states. I never saw The Clean until September 2001, right after 9/11 in San Francisco. It was their second show after that happened and I remember just sitting there almost crying because it was so beautiful.
Hamish opened a few shows for me on the last Spiral tour and it was great to re-connect with him, even though he seemed like he was going through a hard time. It's tough — I think I'm going to try to play a song or two of [The Clean's] on this upcoming tour. They're definitely a big part of Pavement's formation. And in my solo stuff, I learned a lot from them. Or tried to rip them off, a bit I suppose. [Laughs]
AD: This might tie in a little bit, talking about Hamish — your new one, Medley Attack, has this very pop feel overall but when you start paying attention, the lyrics are pretty dark. I was laughing about the little note on the insert: "Coming soon, more songs about feelings and loss." 
Spiral Stairs: [Laughs] Yeah, it's weird. My last three records there's been a death that has contributed to the lyrical content. When the songs have gotten started, the death hasn't happened yet. I'm not sure if I want to do another record because I'm afraid somebody else close to me might die. On the last record, my mother had passed away. And the one before that, my drummer Darius [Minwalla] died. The songs sound kind of poppy and happy, but there's definitely some darkness in there.
Medley Attack was heavily influence by Matt's death, which happened pretty much right after we recorded most of the basic tracks. My family and I had moved to Australia during COVID. I had tried to get it all recorded before that, but it was way too hairy. So, my engineer Dan Long took my demos and put a click track to 'em. The guys, Matt and [drummer] Jim Lindsay started working on those. I'd get up at 5:30 in the morning in Australia and Zoom with them and then I spent the next couple months doing the guitars. Around that time is when Matt died and that gave the lyrics a different angle, I think. 
AD: Tell me about Matt. What kind of musician was he? What kind of guy was he?
Spiral Stairs: Oh, he was a great friend. He was a huge part of my music world, post-Pavement. He was in this band Oranger that my label Amazing Grease worked with. He was a great sounding board. I'd take him songs and ask him what he thought. Very positive, and a lot of constructive ideas. Whatever he played on was great, his parts on this new one are amazing. We just connected—you could say, "Hey, play something like George Murray" and he knew exactly what that meant. It was a big shock to lose him. Now, whenever I get calls from friends, I get a sinking feeling that someone else is gone. 
AD: You're taking Medley Attack on the road this month, right? 
Spiral Stairs: I wasn't going to at first. I had done some shows for the previous record over in Europe with Wilco and then a show in London that just felt really great and fun, but maybe that was a good place to stop. I said to the guys, "I don't want to play live anymore." I'll make records, but why go out. And with Matt dying, I thought, ehh, I don't wanna do it. But Tim [Regan] my guitar player has a way of convincing me. I knew I was leaving, so I was like why not, it'll be fun to get together and play.
It's just a quick thing, San Diego, LA and San Francisco. San Francisco will be great because it'll be with Kelly Stoltz who plays on the record. He's always on the records. He's just fun to be around. We'll do five or six ones from the new one, maybe some older ones, some b-sides, maybe some Pavement stuff we've never done before?
AD: Well, obviously you're in the touring mode, having played a ton of shows with Pavement over the past six months or so. Is it hard to get back in that zone after almost a decade off? 
Spiral Stairs: Yeah, it took a little adjustment, but it was easier than I thought. The Europe part of it was a little tougher because it was so close to the U.S. tour. More traveling. There were a few days where we hit the wall. But the shows were great. It's not really like a job. I mean, it's really fun. 
AD: Yeah, coming away from the show I saw out here, I thought, "Well, I've seen some great Pavement shows in my day, but that was the most fun Pavement show I've ever seen." For the audience and the band. Does that feel like your experience, too?
Spiral Stairs: Yeah, well, Steve was into it and that really makes a difference. We all were into it. We all played really well this time around. In the 1990s, it was almost a different band. Back then, probably two out of four shows were good. [Laughs] Now, I don't think there were really any bad shows! The only bad show I felt I had was the Austin City Limits TV show. I was so nervous, making mistakes, all those cameras. We had to run through the whole set before the actual show … and then we played another show later that night! We'd just played two or three shows in Atlanta and were pretty beat. But most of the shows were pretty great from my perspective. 
AD: I think I heard you say after one song on this tour: "It just sounds better with this band." Can you put into words what it is that makes Pavement—this specific group of guys—so special? 
Spiral Stairs: I don't know, man. On the personal side, it's cool because we're all older, but we all still get along. We all laugh at each other's jokes. We like the same kinds of music. So that translates into playing those songs really well again. In 2010 when we got back together, it didn't feel as good playing those old songs. Maybe it was too close to the time before, I don't know. This time, it really felt like those songs were a lot fresher somehow. That might've made everyone a little happier, and it came across in the songs.
AD: The setlists this time around were pretty impressive, just tons of songs, changing it around each night, bringing out a bunch of rarities. 
Spiral Stairs: It's funny how it came together like that. When we first started talking about rehearsing, I was like, "We're probably going to be playing the same 20 songs. Let's just pick another 15 songs that we know we can bust out." Eventually, we finally came to that point…but then in rehearsals we ended up playing probably like 60 songs [laughs]. I'm like, "Oh my god!" That was just for the two Primavera shows, so it was like "Come on!" It took a while to re-learn all of that stuff. 
When we got back together before the U.S. dates, we rehearsed for like a week and that's when we got through a lot of stuff. Bob [Nastanovich] was like, "We gotta play this one and this one and this one [laughs]." Or, "In Chicago, night two, we have to play this song, but we can't play this song …"
AD: Well, for Pavement nerds, it was the greatest thing in the world. Was anything off limits? 
Spiral Stairs: There were a few Terror Twilight songs that Mark [Ibold] wanted to do, but we tried them, and they were a little too complex, a little too crazy. A lot of chords, a lot of singing.
AD: I loved the "Folk Jam" arrangement that suddenly turned into "Marquee Moon" in the middle. How'd that come about? 
Spiral Stairs: I think Malkmus kinda broke into that while we were rehearsing and everyone was just like "Yeahhhh, let's do that!" That works. That was fun to play.
AD: What's left at this point for you guys to break out from the back catalog? 
Spiral Stairs: Well, for Australia, there's that song "I Love Perth," that'd be a good one.
AD: Have you ever done "Western Homes"? 
Spiral Stairs: No, we haven't, that'd be great. I don't think we've ever played that. One day, I really want to do Wowee Zowee, start to finish. I think it'd be really funny if Malkmus comes out at the start and plays "We Dance" all by himself and then band comes on—and then at the end, I play "Western Homes" all by myself. [Laughs] That's kind of like the Talking Heads movie, though, right? Maybe we'll figure out a special show to do something like that one day.
AD: Maybe you could figure out a residency-type situation. Have people come to you. 
Spiral Stairs: That might be the way it should be at this point. We spent a lot of money on this tour. We had two semis full of shit, you know? And with COVID, they were saying like 10 percent of people just wouldn't come to the shows, even though they had bought a ticket. It didn't feel like that, but that was happening to some extent.
I'm pretty surprised we got through it. I caught COVID right in between the two Primavera shows, so it worked out fine. Westie had it in London. But we never had to cancel any shows, which was amazing. No one got it bad enough to cancel anything. We were very lucky. By the time we got to the end, that second Dublin show, it was just like a weight had been lifted.
AD: So, you're moving onto a tour of Japan, Australia and New Zealand in 2023 and then some festivals after that. Does Pavement go on any further than that? 
Spiral Stairs: There might be, I can't really say yet. Matador is trying to put together their birthday celebration in Mexico City later on [this year]. That might happen. And then there's this Alex Ross Perry movie happening, so there might be some stuff to do around that. And there's a Gary Young movie coming out next year, too, which is really great — Louder Than You Think. We saw a screening of it, it's really good.
AD: Have you heard or seen any of the Pavement musical that Ross Perry put together this past month? 
Spiral Stairs: I saw a clip of a few songs. It was like a Broadway musical with Pavement songs. [Laughs] Pretty funny.
AD: Who knows, maybe it'll be the next Hamilton. 
Spiral Stairs: Yeah, maybe! People said it was cool. I read a good review of it. It's gonna be part of the movie. The movie's gonna be pretty epic, I think.
AD: I've read Malkmus saying that there's no new Pavement material forthcoming, but I wanted to get your thoughts on that. 
Spiral Stairs: You can never say. We can all still play, you know? We sound-checked most nights on this tour and when we got together, we jammed a lot. We didn't really make up new songs, but we made the old ones a little different, a little jammier and spacier. So, that was fun. You never know. It could be one time we get offered to do something and we all say, "Let's try something out." I like it when bands have new stuff, but I don't know. If our old songs weren't fun to play every night, I think we'd probably be more likely to new [songs]. But we've got a lot of songs. That's the key to it, I think—still finding things in those songs that we like. 
AD: Well, it's kind of funny that you do have this new, algorithmic hit—"Harness Your Hopes"—which is cool … and kind of strange! 
Spiral Stairs: Yeah, I know [laughs]! We played it every night and you could tell that there were kids who just going crazy for it. Very weird, but it's cool.
AD: You guys did the long-awaited Terror Twilight reissue last year. Is there anything else in the archival Pavement zone left? 
Spiral Stairs: We did a big deal with Matador a few years ago to do the catalog worldwide, so we came up with a few ideas. The movie thing was one of them, reissuing Terror Twilight and Westing was another. We're probably gonna do like a singles box. And I really want to do a proper box set. We've got a lot of live stuff that we've recorded over the years that we've never done anything with and there's some very early stuff that I've unearthed. There's really cool archival stuff that people would probably be interested in. Having it all in one nice box set would be great. The older I get, these box sets are all I buy now. [Laughs]. 
AD: "I need it to be as big and heavy as possible!" [Laughs] One last question: you've mentioned that you've uncovered some Bag O' Bones tapes recently? 
Spiral Stairs: Yeah! My dad had all this stuff in his garage, and I found like three or four Bag O' Bones rehearsals and some live stuff we did in San Francisco. They're pretty good, and the sound quality is really good. This was me and Malkmus and a drummer named Chuck Valpey. We all grew up together and played soccer in Stockton. It was this band we started in college [in the mid-80s], just over one summer, really. We recorded a bunch of songs. It's cool, it's like R.E.M. meets Echo and the Bunnymen meets Captain Beefheart. I was telling Steve this the other day—on one song you can hear the guitar line for "In The Mouth A Desert." This is like three or four years before that song really happened. He had it in his head. 
Was your 2023 resolution to help boost independent media? Good news: Aquarium Drunkard is powered by its patrons. Keep the servers humming and help us continue doing it by pledging your support via our Patreon page.