Heartfelt tributes to Tom Verlaine have been pouring in since news broke of his death late last month. A famously enigmatic character, the Television co-founder never went out of his way to make himself lovable — but he was loved all the same. As you'll see below, Verlaine provided a guiding light for a wide array of artists through the decades. His deeply original approach (to the guitar, to songwriting, to life) went beyond mere influence and inspiration; it seeped inextricably into the DNA of generations of musicians and writers. As a result, this case will likely never be closed …
Ilyas Ahmed: There are certain sounds & voices that perennially reverberate in my head. John Coltrane's soprano…Emahoy Tsegué-Maryam Guèbrou's piano…Zia Mohiuddin Daga's rudra veena…the soundworld of Autechre…the guitar and voice of Tom Verlaine. His playing was like broken glass, fragmented & sharp yet infinitely beautiful. His use of the Mixolydian scale felt simultaneously ancient and modern, a forward-thinking modal conception towards soloing that eschewed so many of the tired guitar cliches.
Like many of my favorites I felt like I could hear him thinking through his hands, that he wasn't just playing things he had worked out beforehand. I heard a sense of purity combined with reckless abandon which served as a beacon to me as a younger musician. His songwriting was full of left turns and unexpected pleasures hidden in a turn of phrase. There was also that voice, strange and lonesome and knowing and surprised, full of allusions to other worlds. It was music that felt like it contained that oldest of impulses…romance. It served as a blueprint in many different ways. I owe him a lot.
Stephen Malkmus (Pavement): One thing I could say about Tom is his clean guitar tone is really refreshing and influential for me. I resorted to the 90s fuzz for solos only cuz I couldn't pull off that kind of majesty. Also, those chunky riffs, which related harmonically to the chords: super cool … kinda Stonesy but also elegantly non r n b…in the end there's something bold about the unfussy set up and all he got out of it.
Glenn Mercer (The Feelies): When we were starting the Feelies, before we even had a name, we were a trio, consisting of me on guitar and vocals, Bill on bass and Dave on drums. It wasn't too long before Bill suggested he switch to second guitar (along with finding a bass player.) We talked about our favorite twin guitar bands like the Beatles, Stones, MC5 and Velvet Underground and how the interaction of the two guitar players would always contribute a cool, creative component to the song. When we first heard Marquee Moon, we immediately put that record among the finest examples of how that concept could play out.
I seem to remember that Tom started out playing saxophone and he loved free jazz, and those influences came through in his playing and phrasing in particular — leaving space the way a horn player stops to breathe. He also had long thin fingers with a wide stretch — great tools to work with. He also had a dream-like imagination that served him well for both his soloing and his songwriting. I just saw a video of an interview with Tom from a few decades back, and he talked about having no fear of death, that he saw it as just another part of life. That's a comforting thought.
Alan Licht: I had seen photos of Tom Verlaine long before I heard any of his music — specifically one of him in Caroline Coon's seminal punk book 1988, which was gifted to me as a 10-year-old by an older cousin in 1978. Wearing a very plain t-shirt and looking as if the lucite Dan Armstrong guitar (rather than the usual Fender or Gibson) he was playing might explode at any second, it was a striking picture, unlike any rock guitarist I'd ever seen, and simply put, he looked more like me than any rock star I'd ever seen. I also remember a profile in Trouser Press a few years later where he talked about going to the movies for the last two years rather than touring, which was charming in its avowal of cosmopolitan bohemianism over rock careerism (and in retrospect provides an offhanded insight into the long gaps between albums in later decades).
I liked Marquee Moon when I finally heard it as a teenager but became more of a fan of Television live bootlegs, with their longer versions and more fiery playing. When you consider the musical influences from Tom's youth in the 60s that seeped into their music — modal and free jazz, garage rock, instrumental rock, folk, New Orleans R&B, Indian and Middle Eastern music, psychedelia, plus classical music — Television seems less punk per se (post-Richard Hell, anyway) than a genre-resistant, alternate-universe vision of rock's evolution in the 70s, bypassing prog rock, New Dylans, pub rock, glam, heavy metal, or fusion. I've tended to prefer distorted electric guitars but was always amazed that Tom could get so much body and sustain from a clean sound.
I first got to know Tom a little in the late 90s through a mutual friend, Jutta Koether, and when he and Sonic Youth put together a benefit concert after 9/11 Thurston Moore recommended me as a second guitarist to play with him, alongside Television drummer Billy Ficca and Warm and Cool bassist Patrick Derivaz. I did one rehearsal that was just me and Tom and found that he strung his guitars with very high gauge strings, like a jazz guitarist would use—that's how he got that thick tone. He had enormous hands, even for a 6'4" guy, which helped make that radical vibrato he was known for, on heavy strings that are hard to bend, physically possible. Some of the material we were going over was unreleased, but as ever Tom had very clearly thought out how the two guitars would work together—he would say "no skinny strings on this one," splitting the parts more the way a right and left hand would on a piano. When we rehearsed with the full band, at one point he said to Ficca, "Bill, ease up on the fills." Personally, I love to hear Billy Ficca play fills, but that exemplified Tom's commercial sense, in balancing out some of the songs' quirkiness by keeping the rhythm section in check, which you can especially hear on his solo albums. Playing the show itself was thrilling of course, getting to do "Little Johnny Jewel" with those guys as well as "Psychotic Reaction" where Tom unexpectedly gave me the nod to do the solos (he changed up a few things from the rehearsal on the spot during the course of the show, and there was a fair bit of improvisation involved too, you had to be on your toes and watch what he was doing).
Tom had already liked a preview I had done for a local magazine before I'd met him on one of his duo shows with Jimmy Rip accompanying silent films, so he asked me to do liner notes for some new reissues of the Television albums in 2003. I interviewed him and Richard Lloyd (separately), which led to my further interviewing him for the WIRE and for an hour-long promotional CD for European radio when his two Thrill Jockey albums were released in 2006. Tom was the kind of guy where in the first 30 seconds of any conversation with him you would learn something — about music, literature, politics, UFOs, life, you name it. If you go back and read his interviews, they can be quite anecdotal, dashed with esoteric knowledge and wry humor; even if their instigation was promotional, it's great that some of his conversational style is down for posterity.
One other chance encounter with him comes to mind: I was checking out a show of German sound art at the Kitchen in 2006 and took one of Christina Kubisch's Electrical Walks where you go around a city wearing special electromagnetic headphones that transmit otherwise inaudible sounds of various electrical circuits in the street and storefronts. I figured it would be fun to try taking it out of Chelsea into Times Square, so I went down into the subway, and there was Tom on the platform, who burst out laughing when he saw me with these big headphones on. "Where'd you get those earmuffs?" he cackled. I explained the deal, and he got interested; I let him try them on, and I don't remember what, if anything, he heard, but Tom was the perfect person to run into that day.
Editor's Note: Alan's Common Tones collection includes his Verlaine interview along with many more fantastic conversations.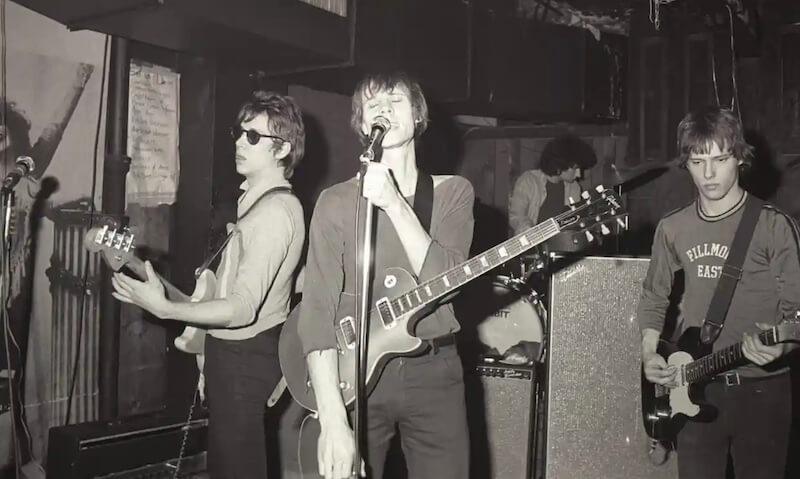 Horsegirl: The three of us were in the same room when we heard about Tom Verlaine's passing. Although half a century separates us and Verlaine, his music manages to feel incredibly resonant and personal to us. Marquee Moon was the first record Nora bought with her own money, the perfect record to jumpstart a young person's love for rock and punk. Thank you, Tom Verlaine for showing us and countless others just how powerful the guitar can be.
Stan Demeski (The Feelies, Luna): I was very lucky to have Marquee Moon come out when I was 16. I had been waiting for "something new" to come along and then it did. A month or two after I got the record, an older friend took me to see what was probably one of their last performances at CBGB. I have to admit, it was a life-changing experience. It made me decide you're better off trying to play your own music and taking the chance that it might find an audience, rather than trying to play 4-5 sets of cover songs a night. On the way home I realized the experience was similar to Elliot Murphy's liner notes for VU1969. And my mother did give me a hard time for borrowing my older brother's ID, which I didn't need to get in, and for getting home so late.
Matthew Specktor: I grew up listening to a lot of punk rock—no solos longer than twenty seconds—and so Television certainly offered me something else when I heard them. But their searching, sometimes sprawling, quality was always dramatic and tense. It was never slack. When Lou Reed sang about how "between thought and expression/lies a lifetime" it was one thing, but Tom Verlaine turned that lifetime into a split-second. I'd never heard a rock musician who seemed to cross the gap between idea and execution so quickly. There's a lesson there for writers—or for anyone, really—about immediacy, which is still the quality I might value most.
Chris Forsyth: It's such a weird time to be here living as so many greats pass on. I suppose it's something like being a jazz musician (or fan) in the 1970s and early '80s as Duke, Monk, Mingus, and so many other giants were all leaving the playing field, so to speak. I'm feeling the weight of time and the distance of the past and wondering about the future. You figure these artists are going to be there forever and while thankfully we have their recorded legacies, the artists are just…gone. And they take so much with them. See everyone you can. Try to talk to them. Ask questions. Keep the thread alive.
Tom Verlaine's death comes, in my mind, at the end of the 50-year cycle of punk that he as much as anyone started. Like, there were no venues for unsigned bands to play in New York City in 1973-74, so Television started things at CBGBs. This set off the underground Rube Goldberg machine that we've lived inside of ever since. A few years on from Television's hiatus, that leads to Black Flag and others creating the national network that many of us grew up with in the '80s. Then after 15 years, punk suddenly becomes mainstream popular and that creates some weird waves for sure. Then in the late '90s through the '00s the scene steadily professionalizes itself until it's practically a valid career option for not only artists, but a whole range of professional people (maybe especially for these professional people) — publicists, club owners, labels, managers and so forth. And now we're basically back to a place where the industry controls most of the venues through booking agents. It's 1974 again.
Verlaine's passing is another lost connection to the time before the internet and the industry cannibalized the underground and streaming helped kill it off. I don't mean to sound glum — though of course I'm sad that Tom is no longer with us — because we've been here before and turn, turn, turn, y'know. It feels imperative to keep playing for the sake of playing, to aim to operate on the highest level possible. Ambivalent as he was about "success," every time I saw Tom Verlaine perform, he showed up and killed, even when the whole thing seemed kind of bemusing to him. Keeping the thread alive: what more can you ask for?
Editor's Note: For more of Chris' insight on Verlaine, check out his fantastic piece for The Guardian.
Steve Wynn (Dream Syndicate): He was my guitar hero at a time when I needed one most. I spent the entire year of 1981 practicing daily to Marquee Moon. Tom Verlaine's soloing (and Richard Lloyd's as well, of course) showed me you could be a virtuoso and dangerous at the same time, more Coltrane or Ornette than the arena rockers of the day. It was a revelation, and I was hoping my Jazzmaster could somehow channel his when I played the solo on "Halloween" on the first Dream Syndicate album. Such an immeasurable influence on me and, of course, on so many of fellow guitarist friends. A huge loss—keep poking at those heavens, Tom Verlaine.
Alasdair MacLean (The Clientele): I personally think Verlaine's greatest gift was his sense of song structure. Look at "Days on the Mountain." There are three separate, interweaving parts, completely different, all complimentary. It's totally unorthodox but works so perfectly it feels natural. He was of course a brilliant guitar player, but guitars are only tools, really, there to help create something bigger. I think he understood that.
I also think of some of Stephan Mallarme's phrases – "the musician of empty nothingness." Verlaine seemed to be working in parallel: "Watching the corners turn corners;" "Lightning struck itself." The language turns in on itself, like the guitar solos. He obviously knew those poets back to front. I imagine lots of other people have tried to do this since, but all of them have made fools of themselves. Verlaine never did.
Bryan Waterman: There's a six-line poem in Tom Verlaine's never-published collection 28TH Century that I've been thinking about all week. It's compressed, almost hieroglyphic, like those little poems by Stephen Crane. It consists of a phone call to "Richard" in which the person making the call proposes a revolution. Richard, on the other end of the line, assumes it's "Tom" and asks how he's doing. But the caller just says "Who?" and hangs up. When I first read that poem, in Richard Hell's papers at NYU, it reminded me right away of the lyrics to "Venus." I wanted to include it in the section of my book on Marquee Moon that dealt with the song, but was told by Hell, who had scrapped plans to publish 28TH Century after he was kicked out of Television, that I would need Verlaine's permission. I'd tried to reach Tom before but had no luck. When I tried again with a specific permissions request I finally managed to get a response. We emailed and talked by phone a few times one night. He was reticent but kind. At first, he said sure I could use the poem, if I promised to buy him a miso soup and give him a couple copies of my book. But he called back almost right away having changed his mind. He hadn't been compensated for those materials and didn't think they should even be included in Hell's papers. Instead of quoting the poem, I mentioned it and paraphrased as best I could.
When the book came out, I was happy that he let me buy him lunch anyway. When we met at Souen (the one on 6th Ave, closed now) he was even quieter than I expected but the conversation that unfolded was broad-ranging and electric. We talked a lot about New York and music — about Varése living on Sullivan Street, about favorite bookstores, about record labels and venues we liked. When talk finally turned to the book he said that no one had told Television's story right, and he was sure I probably hadn't either. He flipped through a copy, saw a reference to Please Kill Me, and groaned. "Why'd you have to quote that?" he said. I told him I was reading it as a literary text, not as hard fact, but I don't think he bought it. Why not tell it yourself? I asked. Publish those early poems and your own life story as an intro? We moved on to other things: an upcoming tour in Brazil, his uneasiness about air travel in general (were the pilots really flying or was it all remote control?), whether I could get him a discount on some Continuum titles. He asked if he could finish my soup.
A few months later someone pointed me to an interview he did for MTV Brazil in which he mentions my book and says — surprise, surprise — I'd got it wrong, the way everyone else had. Maybe I was a little disappointed, but this had been his line for 40 years, about everyone who'd tried to tell his vision. I was in good company.
I used to fantasize that he'd let me revisit his story and get it right. Or maybe that he'd ask Alan Licht, who we both agreed had done the best profile of Tom so far, to attempt some version of the book Alan had done with Will Oldham: call it Tom Miller on Tom Verlaine. The morning of the day we'd get news about Tom's death, I had been thinking about the upcoming 50th anniversary of CBGB — and of Television. What would those dates bring? As the flood of tributes to Tom continues to pour in, we're also getting new materials, previously unpublished interviews, bootlegs and old WFMU shows recently rediscovered. We can only hope that whoever's handling his estate makes sure Tom's own collection of scraps about his history, assuming that collection exists, finds its way to an archive so people can keep trying, keep getting it wrong, keep trying again.
Editor's Note: Bryan's 33 1/3 book on Marquee Moon is highly recommended.
Dean Wareham (Luna, Galaxie 500, Dean & Britta): What is really impressive about Verlaine's playing is that he created these unique bursts of sound with just fingers and a volume knob, maybe just a bit of compression and amp reverb, yet he could coax all sorts of sounds out of it. And sometimes (listen to those live bootlegs of Television) that involved using the whole guitar, attacking and scratching it with the pick, much in the same way that Billy Ficca would use the whole drum kit (he would bang his sticks on the back of the floor tom).
When we were doing shows together in 2016, I felt a little sheepish when Tom spied my pedalboard and said "Wow, look at all those pedals" — and my pedalboard is not crazy big compared to other bands — but all he needed was a Stratocaster and a Twin Reverb, in fact he did not even carry a guitar to Europe, he used a rented Strat in each city.
Editor's Note: Check out Dean's great Counterpunch piece for more of his thoughts on Verlaine.
Cian Nugent: Playing the electric guitar can seem like an anachronistic and slightly ridiculous task in the wake of 20th century electric music. It can feel like most of what can be said on the instrument has already been said, and said so many times it becomes redundant, a dead language. Like when you repeat your own name so many times it makes you feel ill.
I remember the first time I heard Television it was aged 16 on a mixtape I found, among a batch that had been left in our house by a friend of my mother's who moved to Africa, that had no tracklisting. On this tape the first song was "See No Evil," but I had no idea who the song was by, I listened to it over and over and it sounded like the kind of music that I had always wanted in my life. It seemed mysterious and the guy's voice seemed like the very definition of cool.
One day, on a field trip to Dublin Zoo I asked my English teacher, who was into music, if he recognized the song and he said it was by a band called Television. He loved them and agreed to burn me the album Marquee Moon if I got an "A" on my next English paper. I didn't get an "A" but he gave me the album anyway and said "the fourth song is great, check it out." When I heard this music suddenly the guitar didn't seem like a redundant tool anymore; it felt like a way of saying something entirely un-cliched, elegant and from-the-stomach exciting. It had a raw impulse led sensibility at the same time as having the sophistication of the finest cinema or literature.
Tom Verlaine's guitar playing and lyrics felt truly exciting and almost shocking. The band's balance of composed songs and improvised solos became a template for what I wanted to achieve musically, and I've been trying to rip off the solo to "Marquee Moon" ever since. Just last week I listened to "Marquee Moon" up loud and marveled at the guitar solo. It is such a refreshing and true expression on the guitar, it truly feels from the guts. Verlaine consistently felt like he got to the heart of the matter, navigating through rock songs without ever feeling cliched or dull. He was a diviner of electricity, a harvester of lightning. He will remain an inspiration and a guide for me, an example of how it should be done.
Matthew J. Rolin: Television is one of the bands that made me put down a horn to pick up a guitar in my late teens. I taught myself how to play by painfully learning every guitar part from Marquee Moon second by second. I still can't play it 20 years later. Thanks for everything, Tom Verlaine.
Steve Gunn: When I first heard Marquee Moon, I felt similar to when I'd discovered Kind of Blue and A Love Supreme—an understanding beyond explanation. I'd found a record that would change my personal course. I knew right then that I would be able to listen to this record end-to-end forever and not get tired of it. Even though I was too young to know many things, I knew that Tom Verlaine's music would stay with me. It has and it will.
Tom Verlaine provided a perfect synthesis of all the music I was learning to love. And I would come to find out he had a larger influence on so much of the music that was already inspiring me. A mystic poet, a singular virtuosic/anti-virtuosic guitar player, who walked with as much NYC cool desire as the Velvet Underground. His star wasn't immediate, but everyone in the know felt and took his influence. Most things that are significant move slowly.
Years ago, I saw Tom Verlaine at the Strand bookstore, searching the discounted books out on the sidewalk. I was quietly thrilled to see him there, and when he caught me glancing at him, he passed me the "not now" look. I politely agreed, understanding that he didn't need to hear my stumbling appreciation. It still made my day.
Sean Eden (Luna, Elk City, CFR): I spent a lot of time in my teens listening to Television's contemporaries like Talking Heads, Patti Smith, and The Ramones, but I hadn't truly "heard" Tom Verlaine and Television until after I'd moved to New York in the late 80's. I was going to see bands all the time then, including at CBGB's, and began listening to a lot more New York-based music. That was when I really started to appreciate Television and how unbelievably good the guitar playing is on those records. I think Marquee Moon is one of the greatest guitar records ever made.
When I joined Luna in 1992, Television's reunion album came out in the fall of that year, and I remember listening to it and talking about that album and their previous releases with the rest of the band when we were rehearsing and on our first tour. Television was, and is, a very important band to all of us.
Cut to three years later (and Dean describes really nicely how this all came to be in an article in Counterpunch) and Tom Verlaine is recording guitar solos on a couple of songs for our Penthouse LP! His beautifully evocative and melodic playing on those songs turned out to be a couple of the most memorable moments in Luna's entire discography. In retrospect I guess that's not surprising, but you never really know exactly what's going to get on tape when someone comes into the studio to play some overdubs. But of course, this was Tom Verlaine. And it was all just improvised, off the cuff, recorded pretty quickly, you know, no big deal….to him, I think, anyway.
To us, it was a very big deal.
I know it sounds like a cliché, but as a guitarist, even before I saw him play live, I was keenly aware that Tom Verlaine was, as they say, on another level. I regard his singular style of playing in the same way I regard some of the great jazz improvisers. Nobody sounds quite like him and he could just, well, go places. I mean, just listen to the live version of "Little Johnny Jewel" or "Marquee Moon" from The Blow-Up. There's such incredible energy and spontaneous brilliance on those recordings in his soloing, and his singing, and from the whole band. And I just recently listened to a board tape of a show he did in 1981 at the Roxy that pretty much blew me away all over again, too.
He and Television have had a significant influence on my own playing over the years, and his incredible ability and urge to improvise and explore has inspired me over the years, too.
Thank you, Tom, for your amazing musical gift to Luna, and all that you wrote and played and provoked and inspired and left behind for everyone.
Zachary Cale: Just before I moved to NYC, my Dad gifted me his '61 Jazzmaster and his LP collection with the first two Television LPs and a few Verlaine LPs included. Hearing Marquee Moon for the first time was revelatory. I was already deep into punk, but this was something different. It was elegant and dark, joyful and melancholy at the same time. Tom's lyrics painted vivid scenes of a city life I dreamed about. I still marvel at how his poetic turns of phrase weave around the guitars, it's so complex yet perfectly melodic. The Jazzmaster was Verlaine's axe of choice in the early days. When I found out Tom as well other guitar heroes like Thurston Moore and J Mascis used them, I stopped lusting after other guitars.
Tom's music feels crafted like a strange architecture, all epic columns and jagged points, elegant spires and haunted doorways, but there's a soul there that echoes through the archways, those bent notes and cascading rhythms that shake you. That balance of methodical structure and ragged emotion is a hard line to achieve, and Verlaine did it effortlessly. I've always admired the way he forged his path. Maybe it's the vibe he exudes, this kind of quiet rage. He didn't need to scream to be noticed even though he possessed a great scream. The music, as they say, spoke for itself.
Compiled by Tyler Wilcox, February 2023 …
For Heads, by heads. Aquarium Drunkard is powered by its patrons. Keep the servers humming and help us continue doing it by pledging your support via our Patreon page.