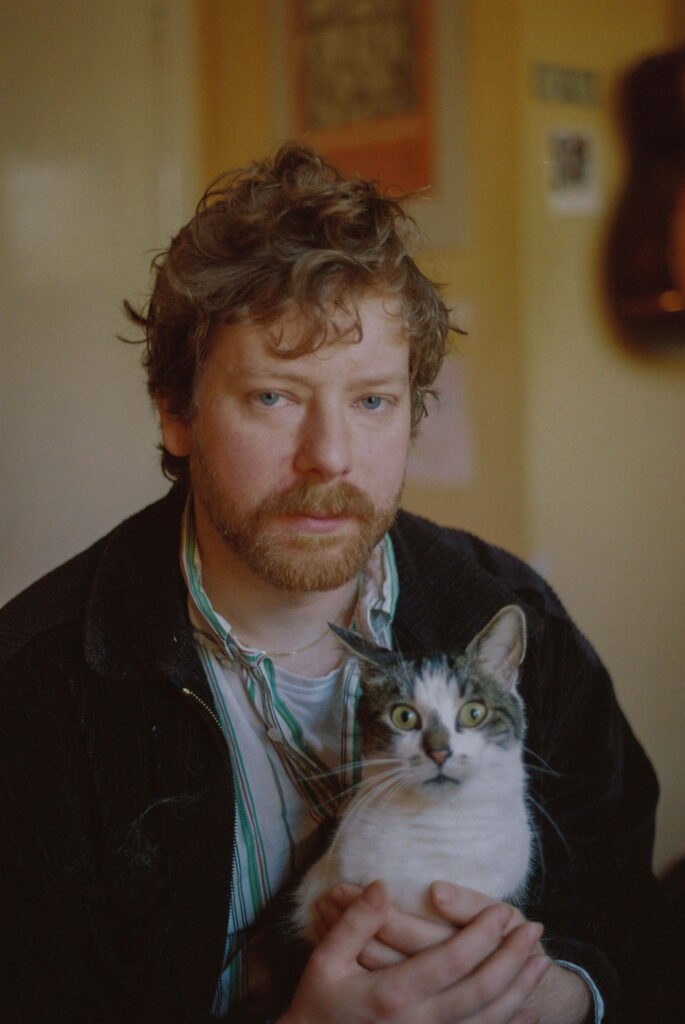 On She Brings Me Back To the Land of the Living, Irish guitarist and songwriter Cian Nugent explores gentle revelations through impressionistic folk rock. Effortlessly blending mood, groove, and traditionally-based song craft—think Bert Jansch's LA Turnaround, with its Red Rhodes-led pedal steel passages, with extra art rock friendly elements added for good measure—the record was inspired by deeply personal circumstances that found Nugent returning to his family home in Dublin to care for his ailing mother. Though Nugent excels here on his unfolding ballads, it's the electric guitar interplay and outward drifts that set this one apart, indulging in the jammy tendencies best demonstrated by past work such as the brilliant "Houses of Parliment" from 2013's Born With the Caul.
Nugent joined us to discuss how his mother influenced the album, psychedelic production tricks, and share a play list of music that inspired its knotty, soulful tone. | j woodbury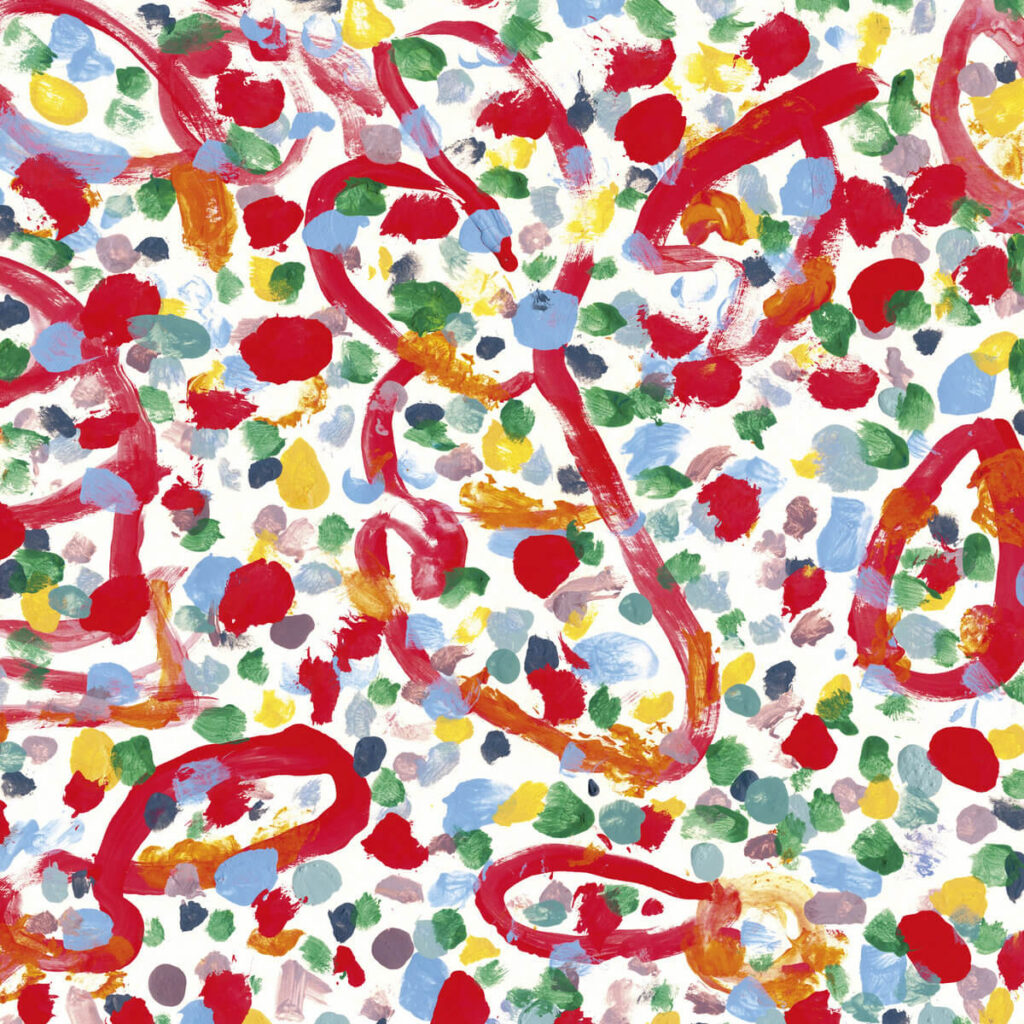 Aquarium Drunkard: The album cover of She Brings Me Back To The Land of The Living is a painting by your mother Kathy Nugent. When did she begin painting? How did your mother inform your understanding of artistic expression growing up?
Cian Nugent: I grew up in a small family, it was just my mum and I growing up. I was fortunate to grow up with a mum that was artistic and into music. She loved Motown and Van Morrison when I was a kid and I always loved hearing that stuff. Her background was in theatre. She was always curious artistically and didn't really see any type of art as being less valid or interesting. Around the time I went to college, she went to college and studied fine art as a mature student. I think she had always been interested in painting but it was during this time she got more deep into it making art.
In 2019, she had a bad stroke and spent a little over a year in a rehab hospital and one of the things they did there was art therapy, which is when she painted the painting that was used for the album cover. I found it very beautiful and it felt representative of the time that these songs were made. My mum was always very encouraging of me playing music and expressing things artistically. When as a teenager I decided I wanted to play guitar she bought me one and made it happen although I know she didn't have much money. She arranged lessons for me with a friend of hers called Garvan Gallagher who was a great teacher and in things coming full circle Garvan played bass on this new album on a few songs. It was really nice to have him involved.
AD: You became your mother's primary caretaker. How did it make its way into the songs?
Cian Nugent: The songs are very personal with a logic to them that perhaps only makes sense to me. Certainly some of the lyrics and moods expressed in the music reflect the emotions of this period. It's difficult to see someone you care about struggling but I was also very inspired by the determination and strength I saw in her. The song "Dogs in The Morning" in particular I think reflects this time. The line, "The same as before but different" is a phrase my mother said repeatedly as she was relearning how to speak while experiencing aphasia post stroke along with the album title itself. I wanted to try use these things as they felt poetically meaningful and relevant.
The song "Siamese Sharks" was also inspired in part by the area surrounding the hospital I used to go and visit my mother in, an area I've known for a long time and the layers of memory I associate with that place. "Pass The Time Away" is also inspired by the area I grew up in and re-learned to appreciate after moving home. I think also moving home to my family home and the quiet of the suburbs afforded me space and time to work on the arrangements for the songs. I recorded a lot of the album at home on my own following the initial live sessions. Having time to experiment and not having to pay the high rent Dublin city has unfortunately come to command also meant I had a little more money to buy gear and instruments and time to learn about recording which really shaped the sound you hear of the album.
AD: I love the whispered, panned vocal in the second verse of "Empress." What inspired that idea?
Cian Nugent: I'm glad someone noticed that! It was just a kind of funny idea I had. It seemed like something you might hear on a Pretty Things or Kevin Ayers record. I like to try things out and see if it sounds cool. When we were mixing the record I asked Cooper Crain who mixed the album if it worked and he said, "Yeah sure," so it stayed in [Laughs]. Cooper had to deal with quite a bit of being asked, "Do these four Mellotron tracks work?" There's a lot of instrumentation on some of the songs and he did a great job of making it all work together.
AD: I love the electric guitar interplay of "High Up Airplane," and I love the line about trying to levitate. Can you tell me a little bit about writing that song?
Cian Nugent: In about 2018 or so I was on tour in Europe with Steve Gunn and we played a gig in Luxembourg. We imbibed in quite a bit of Oban whiskey that night and I had a very strange vivid dream about being on an airplane looking down at the fields below. In the dream there was a song playing that went something like what ended up on the record. Sometimes I hear songs in dreams and try to remember them when I wake up. They always turn out a little different than what you hear in the dream but it's fun to have a reference point you remember in your head. The song in the dream had quite particular drums and guitars and I tried to stay true to that in the arrangement and sounds on the record, which is fun but difficult to replicate! The line about trying to levitate also came from a dream in which I was standing outside the church in Phibsborough where I lived at the time trying so desperately to levitate I thought I really had it. The rhyme about how you can't learn anything filled with hate was also in the dream and I just thought, "OK that works, I won't argue."
AD: Did you have any records in mind as the sound of this album came together?
Cian Nugent: As we were working on the arrangements for the songs, myself and Sean Carpio, who produced the album with me, discussed certain session musicians and studios rather than specific albums, people like Earl Palmer and Carol Kaye from the Wrecking Crew and their work on Jim Sullivan's UFO, Al Jackson Jr and the sounds coming from Hi Records in Memphis, Brian Blade and his work with Daniel Lanois, London drummer Dougie Wright who played on a lot of late '60s English records like Serge Gainsbourg's Histoire de Melody Nelson. Sean's background is as a jazz drummer and he has an amazing breath of skill in that style. We were quite influenced by the type of session drummer that grew up playing jazz, playing more straight forward rock pop and the sound that gives. We both love soul music and share an appreciation for artists like Al Green, Marvin Gaye, Curtis Mayfield, and Donny Hathaway, particularly the live records by Curtis Mayfield and Donny Hathaway were reference points for us.
I love both Kevin Ayers and Robert Wyatt's strange approach to pop songwriting, the perfect blend of weird and immediate for me. I love Lucinda Williams' '90s records, I actually got to see her for the first time a few months ago and was moved to tears, she's a hero of mine. Then there's stuff I have always loved the sound of like Richard and Linda Thompson's records and Neil Young's albums which are probably always influencing the way I tend to approach record production. Another record I was quite inspired by is Irish musician Ernie Graham's solo record from 1971 which has Brinsley Schwartz as the backing band on and is a great record that's not very well known.
Only the good shit. Aquarium Drunkard is powered by its patrons. Keep the servers humming and help us continue doing it by pledging your support via our Patreon page.