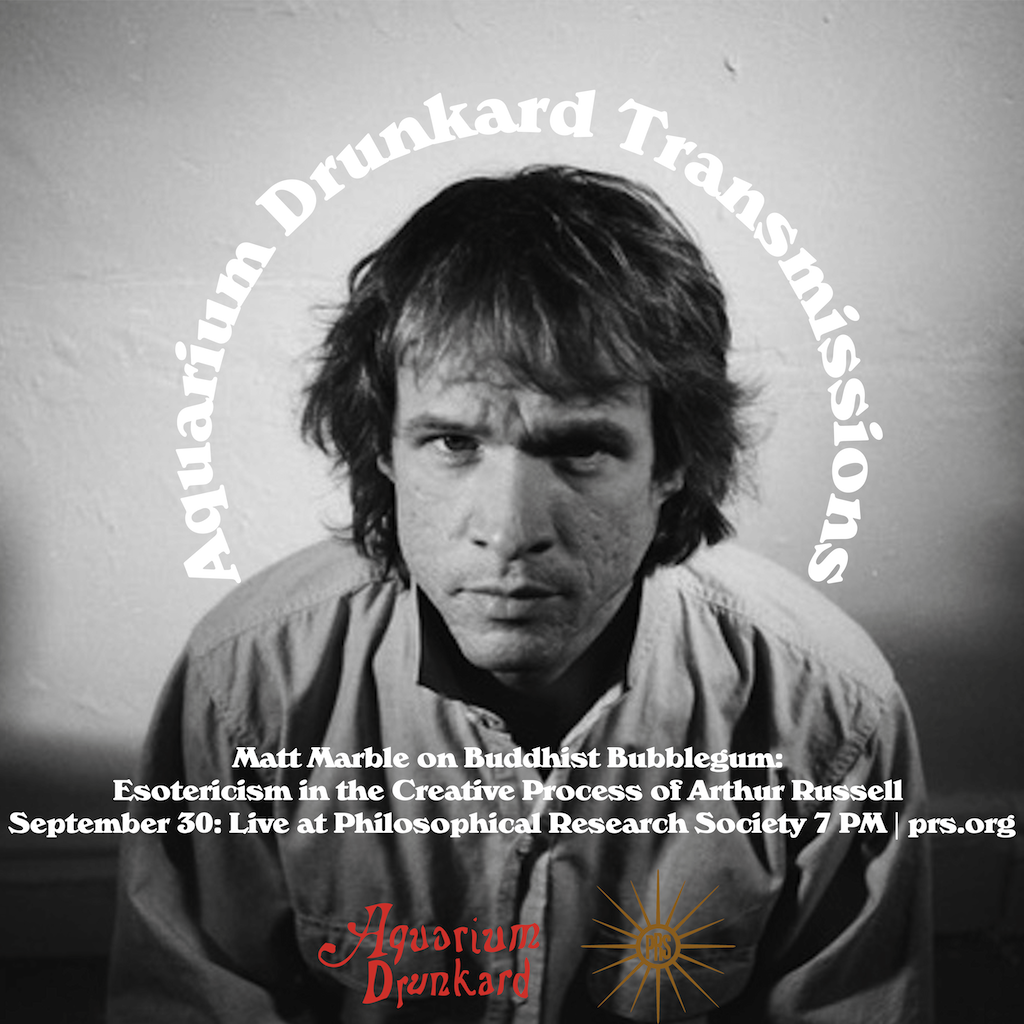 Los Angeles, we are pleased to share word of Aquarium Drunkard Transmissions live at the storied Philosophical Research Society in Los Feliz on Saturday, September 30th with Matt Marble, author of Buddhist Bubblegum: Esotericism in the Creative Process of Arthur Russell.
Marble is an artist, author, audio producer and director of the American Museum of Paramusicology, best known for his podcasts, including Secret Sound, an exploration of the metaphysical history of American music, and the interview show The Hidden Present. With Buddhist Bubblegum, he outlines the specific religious impulses that informed Russell's groundbreaking work. Diving deep into Russell's Buddhism and other esoteric interests, including goma and hiwatari fire rituals, samatha and vipassana meditation, shugyo and sadhana martial arts, mandala visualization, mantra recitation, numerology, and astrology, Marble illuminates Russell's desire to "spiritually infiltrate popular culture" through music.
Join Jason Woodbury and Marble for this intimate conversation about Russell and his landmark albums, including World of Echo and the recently released Picture of Bunny Rabbit. Tickets are available now for both live attendance and a Zoom stream. For more information, visit the Philosophical Research Society.
Ahead of this weekend's live talk, Marble and Transmissions host Jason Woodbury caught up for a brief preview.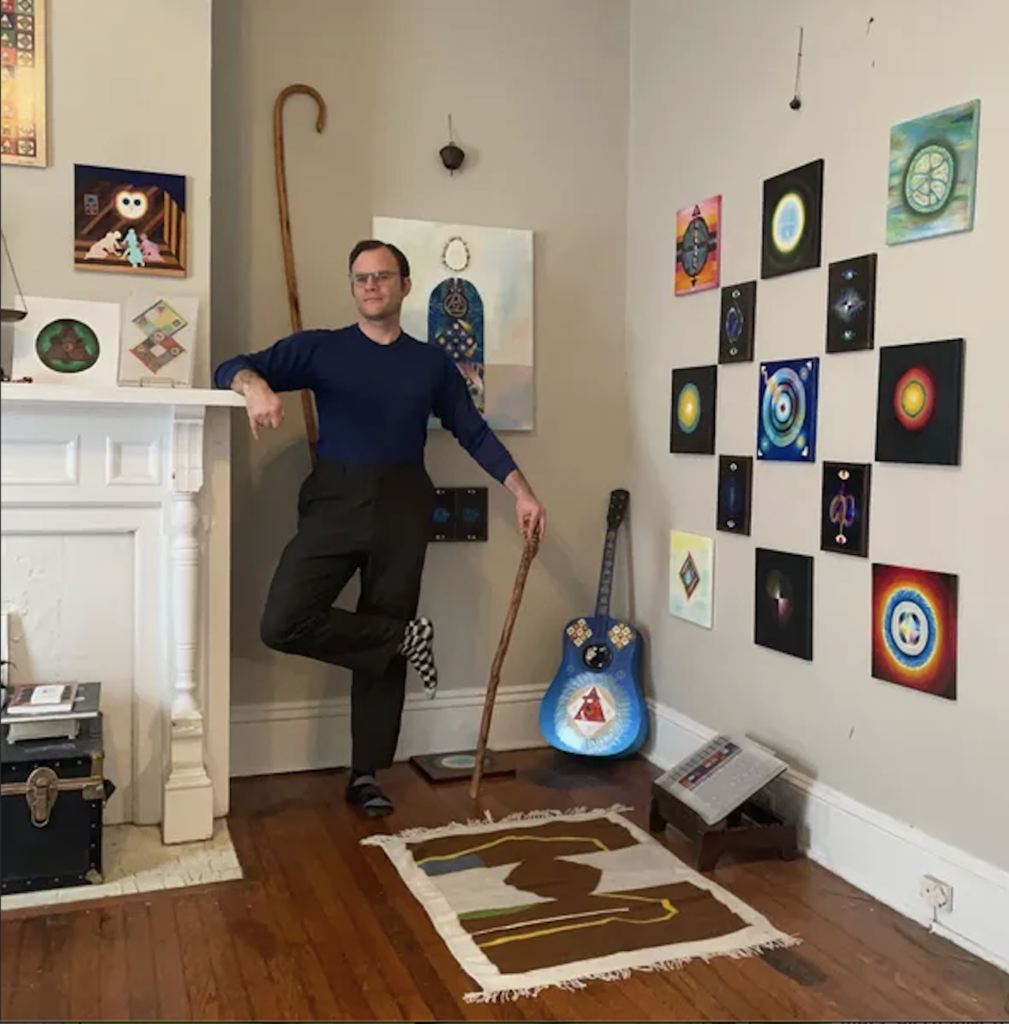 Aquarium Drunkard: I'm looking forward to being at Manly P. Hall's Philosophical Research Society with you. I haven't been there yet.
Matt Marble: Same. But I've been publishing through their journal over the last six months, and they've been just really supportive in general. I definitely have a lot of respect for that place, so I'm really looking forward to it. I lived in Los Angeles briefly. I went to CalArts, but I was pretty ignorant of it at that time.
AD: Buddhist Bubblegum is an incredible book, because while you dig deeply into Russell's methods, inspirations, religious practices, and personal motivations, none of it seems to erase or dispel any of the musical mystery and allure in his music. When did you first get interested in Arthur Russell's music?
Matt Marble: I first listened to his music when World of Echo was reissued on Audika. I was in Paris studying abroad at the time. From the first track, I was absolutely enchanted. I just laid back on my bed and listened to the whole album from start to finish. It was one of the best listening experiences of my life. I watched Wild Combination: A Portrait of Arthur Russell, and I was intrigued. From there, I started transcribing his cello on World of Echo, just for fun. I liked doing that, it got me more into the insides of things musically, then I read Bill Lawrence's Hold On to Your Dreams: Arthur Russell and the Downtown Music Scene: 1973-1992. Everything was posting flags saying, "come look for more." I felt the call.
AD: In the beginning of the book, you describe how Arthur wanted to infiltrate pop music with consciousness. And to that end, he's playing disco, dance music, hanging out on the night life scene—he was so aware that people can totally experience spiritual transcendence at a bar at two in the morning. It's a playful approach.
Matt Marble: He was also consulting aesthetic guidance from children. He'd ask his family members' kids, "Is this good? Do you like this?"
AD: Holy but not precious, you know what I mean?
Matt Marble: That applies to his general creative process and the Buddhist philosophy. Essentially, he was just capturing these first thoughts, these "fresh" thoughts, as isolated events that he could then kind of knit together or fuse into one another or replace one with another or combine them in different ways. And World of Echo has that beautiful plasticity creatively. That's part of what makes it so special.
AD: Your book focuses on Russell's Buddhism, but his esotericism went far and wide—like when he began composing on a schedule with lunar cycles.
Matt Marble: He was always kind of incorporating things, learning new things. But when it comes to spiritual philosophy, he was pretty rooted in the Vajrayana and Shingon traditions, and while numerology and astrology are present in those traditions, they're not always emphasized. And for example, numerology. I know he really got more involved in that when he had a friend who was also a dancer who died of HIV related causes, he was visiting this guy for numerological consultation, so that kind of fed a lot of his work.
His interest in astrology goes back much further—it's more [rooted in] general new age metaphysics. But within Shingon, the moon is a major symbol. There are meditation practices that are based on meditating a white disc, which represents the moon. Arthur seemed to have a personal preference for lunar astrology over solar astrology. He was obsessed with Cassio keyboards, and there was a little piece in the notebook where he would talk about laying them in a circle according to the phases of the moon, but then the more known examples are that he would record on nights of the full moon and edit on nights of the new moon.
AD: That notion of "first thought, best thought," do you get the sense Russell was interested in capturing something of the primal idea—that which is closest to the source?
Matt Marble: I think a lot of people get hung up on the word first. They think it's the first thing you can think of, and that's not necessarily what it refers to. It can. I think Allen Ginsberg focused the definition a little bit more by saying, it's the freshest thought. It's the thought that's least encumbered by your biases or expectations or desires or anything like that. So that can be the first thought you have. It often is because we don't have time to filter our first response, but it can also come along later on in the process. But it means just being open to that fresh thought and being able to recognize it.
AD: Your podcast is called The Hidden Present, which references a great Russell song "Hiding Your Present From You." That song was inspired by his childhood, but it alludes to "the eternal now," which Russell had a powerful way of expressing.
Matt Marble: Yeah, I wouldn't argue with that. And to go back to what you were saying earlier about dispelling the mystery. That song is perfect example to me, because the lyrics of that song were designed to articulate the mystery, not to reveal anything else but the mystery. It does have this reference in worldly experience—a childhood birthday—but nobody listens to that song, is going to think about birthdays, necessarily. It almost to me reads as a definition of intuitive experience where you see where it is, but don't know where it is, where knowledge has been kind of dethroned for a moment.
Aquarium Drunkard is powered by our patrons. Keep the servers humming and help us continue doing it by pledging your support via our Patreon page.