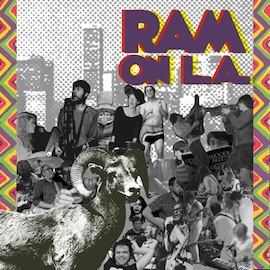 Los Angeles: huge, sprawling, and eclectic, has been likened to microcosm of the country as whole — truly a melting pot of various cultures, ethnicities, tastes and influences. So is her music. Comprised of various scenes and sub-scenes, rarely has there been a defining sound that marks the overall zeitgeist of what is happening in the city at any one time. In 2008 I set out to create a compilation of a dozen or so LA based artists. After giving it some thought, I realized there needed to be a running theme, something to tie it together into a cohesive whole. A common bond.
As records tend to do, a revisited appreciation of Paul McCartney's 1971 solo album, RAM, had begun to see a resurgence of sorts within a number of local eastside artists, coming up both in conversation, and on the turntables of various house parties.
The theme was found. Over the course of the second half of 2008, eleven Angeleno artists individually went into various studios, rehearsal spaces and apartments to record their take on what is my favorite, and (arguably) McCartney's best solo work. The end result is RAM On L.A.
Released as a high-quality MP3 digital download, the not-for-profit compilation is available free via Aquarium Drunkard. Listeners are encouraged to make donations to No More Landmines, the fantastic cause that "helps and empowers communities around the world by removing the threat of landmines and unexploded weapons." A cause championed by Sir Paul McCartney himself.  Donate here.
Download: RAM On L.A. :: A Los Angeles Music Sampler (Zipped 132 MB)

Tracklisting:
Earlimart :: Too Many People
Frankel :: 3 Legs
The Parson Redheads :: Ram On
Bodies of Water :: Dear Boy
Radar Bros. :: Uncle Albert/Admiral Halsey
Naptunes :: Smile Away
Los Baby Fools :: Heart Of The Country
Le Switch :: Monkberry Moon Delight
The Broken West :: Eat At Home
Amnion :: Long Haired Lady
The Parson Redheads :: Ram On (reprise)
Travel by Sea :: The Back Seat Of My Car