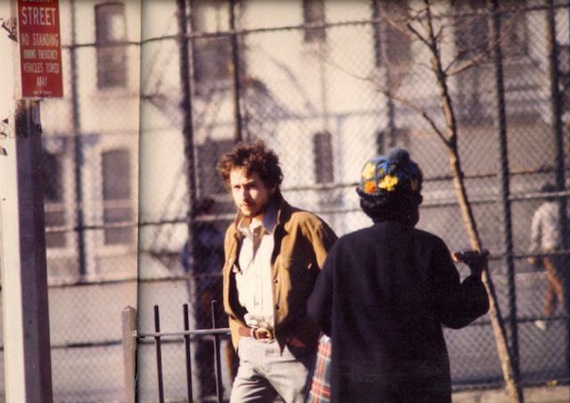 The imminent release of Dylan's Bootleg Series Vol. 10: Another Self Portrait has been met with derision in some quarters. Do we really need a collection of alternate takes and unreleased material drawn mainly from Dylan's most famously loathed LPs? To which I say: Yes, yes, we do. For those of us who have gone down the Dylan rabbit hole, the "lost years" covered by Another Self Portrait make up one of the most fascinating (and strange) periods of the man's career, during which Dylan attempted to burn down all that he had accomplished in the mid-60s and emerge Phoenix-like as … Gordon Lightfoot? Something like that, anyway. I've yet to hear the latest Bootleg Series, but I know it's got some fantastic stuff on it, like the gorgeous, electric piano-led take of "Went To See The Gypsy," and the Band-backed version of "I'll Be Your Baby Tonight," captured live at the Isle of Wight Festival in 1969.
Oddly, however, the compilers have left off a favorite outtake from the New Morning sessions, a wild re-arrangement of one of Dylan's best love songs. In 1970, "Tomorrow Is A Long Time" had never been released by Dylan himself, despite it becoming a well-known tune, thanks to cover versions by Ian & Sylvia, Rod Stewart and even Elvis Presley himself. A few years later, Dylan's Greatest Hits vol. 2 included a beautiful live rendition of the song recorded in 1963. But the New Morning take is something else altogether, trading the hushed tenderness that the lyrics seemingly demand for a raw, country funk vibe that shouldn't work, but somehow does. With a gritty lead vocal, backup singers hooting along and an infectious slide guitar riff, it's just another example of Dylan's utter disregard for the concept of a "definitive" reading of his songs. As he said back in '66, "It used to go like that, now it goes like this." words/ t wilcox
Bob Dylan :: Tomorrow Is A Long Time (New Morning Outtake, 1970)
Only the good shit. Aquarium Drunkard is powered by our patrons. Keep the servers humming and help us continue doing it by pledging your support via our Patreon page.