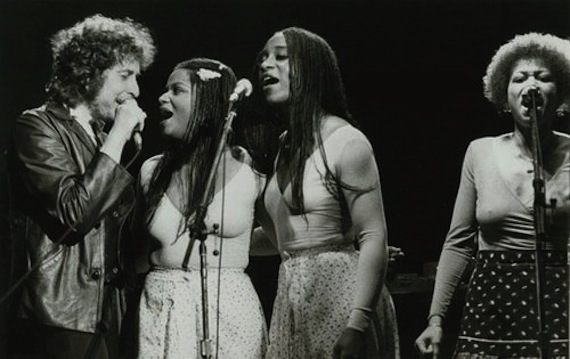 Light In The Attic just reissued the Los Angeles Gospel Choir's Dylan Gospel LP, a downright excellent collection from 1968. Bob himself, of course, had his own gospel period about a decade later, releasing a trilogy of albums inspired by his conversion to Christianity in late 1978. Dylan's born again music remains controversial even today, but it's ripe for re-assessment. If the Bootleg Series can rehabilitate the reputation of Self Portrait, it certainly can do the same with the ever-so-solid rock of the gospel period.
Because whether you're a true believer or not, there was plenty of action taking place onstage during these years. Dylan's live band was packed with ringers — Fred Tackett, Spooner Oldham, Jim Keltner, Tim Drummond — and they triggered some of the most intense performances of his career. This version of "Slow Train" drawn from a late 1980 multi-night stand in San Francisco, sees Dylan testifying as though his life depends on it, his musicians and backup singers egging him on to a positively possessed vocal. This is some seriously lowdown, funky music for the Lord. You can almost smell the fire and brimstone.
Slightly more celestial is "City of Gold." A Dylan original that has yet to see an official release (though it was covered by none other than the Dixie Hummingbirds a while back), the tune is a beautiful, revival tent slow-burner, with an appropriately holy melody and deeply spiritual vocals. Not sure how many San Franciscan souls Bob converted on this particular night, but if any song could do the trick, it's be this one. words / t wilcox
Related: Dylan's 1965 Studio Fragments // Tomorrow Is A Long Time (New Morning Outtake)
Only the good shit. Aquarium Drunkard is powered by our patrons. Keep the servers humming and help us continue doing it by pledging your support via our Patreon page.