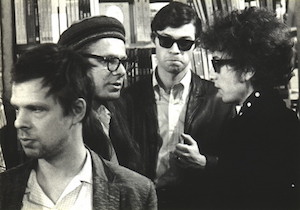 Rumors were flying all summer about a massive Bootleg Series covering Bob Dylan's unbelievable, earth-shaking 1965-66 period. And hey, the rumors were true. The Cutting Edge (available in 2-, 6- and 18-(!!!) disc versions) draws back the curtain on Dylan's studio sessions for Bringing It All Back Home, Highway 61 Revisited and Blonde On Blonde, three of the best albums made by anyone, ever.
I know what you're thinking — "Do I really need 18 discs of false starts, breakdowns, chatter and alternate takes?" Maybe you do. Just gazing at the tracklist, there are some seriously enticing (and un-bootlegged items): a stab at a full-band "Mr. Tambourine Man;" a complete take of "She's Your Lover Now," a "Just Like A Woman" that allegedly falls "somewhere between Bo Diddley and Jamaican ska," several takes of the epic "Sad Eyed Lady of the Lowlands" … the mind boggles… and the list goes on. The 18th disc of the deluxe edition features casual, after-hours hotel room recordings, including this haunting acoustic fragment. "I Can't Leave Her Behind" is clearly unfinished (and would remain so, sadly). But in its own way, it's absolutely perfect. Bring on The Cutting Edge. words / t wilcox
Bob Dylan w/ Robbie Robertson :: I Can't Leave Her Behind
Only the good shit. Aquarium Drunkard is powered by our patrons. Keep the servers humming and help us continue doing it by pledging your support via our Patreon page.