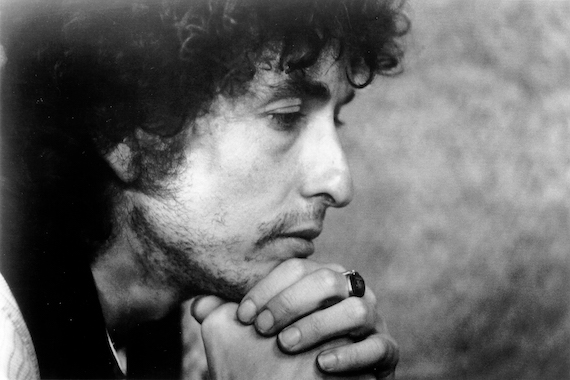 More Blood, More Tracks – The Bootleg Series Vol. 14, the latest slab of previously unreleased Bob Dylan recordings, lands in early November. The six-disc collection features the complete New York City recording sessions for Blood On The Tracks, giving listeners a fly-on-the-wall look at the creation of one of Dylan's bona fide masterpieces. In some ways, though, the songwriter has never stopped creating Blood's opening track, "Tangled Up In Blue." Onstage, the song has been an ever-changing landscape, a canvas for Dylan that's never quite complete, lyrically, musically or otherwise. It's a living, breathing thing. "You've got yesterday, today and tomorrow all in the same room, and there's very little you can't imagine not happening," he once said of the song. In other words, you can see the song from many different points of view. Here are just a few of them.
Hughes Stadium, Colorado State University, Fort Collins, CO, May 23, 1976
Dylan debuted "Tangled Up In Blue" in a fairly straightforward solo acoustic format during the first leg of the Rolling Thunder Revue in late 1975. By the following spring, however, he'd introduced a rollercoaster electric arrangement of the tune, full of hair-raising starts and stops, fueled by the devil-may-care rhythm section of Rob Stoner and Howie Wyeth (not to mention Mick Ronson's stinging lead guitar work). To borrow a phrase from a song Dylan later covered, this one goes 90 miles an hour down a dead-end street.
Hec Edmundson Pavilion, Seattle, Washington, November 10, 1978
A few years later, "Tangled" had mellowed considerably. This is the "torch-song" version, with Dylan setting aside his guitar to croon dramatically over a lush bed of keyboards and sax. But don't be fooled by the smooth setting: it's an intense, magnetic performance. "'Tangled Up In Blue' … is a real story, and Dylan leans into it, gets into the telling and the vocalizing," Dylan scholar Paul Williams wrote of the '78 renditions. "He sings to fill the room, to create something, to project this little movie before your eyes; the story is in the words, but the colors and textures and moods of the film are all in the sound of his voice."
Parc de Sceaux, Paris, France, July 1, 1984
Bob brought "Tangled Up In Blue" back to its solo acoustic roots in 1984, but the song was still evolving in his mind. During the European summer tour, he re-imagined entire verses, adding new perspectives and lyrical twists wherever he could. The results are magnificent. "I rewrote it in a hotel room somewhere," Dylan revealed in 1985. "I wanted to sing the song again, and I changed it. When I sang it the next day I knew it was right. It was right enough so that I wanted to put it down and wipe the old one out." The past may have been close behind, but Bob was determined to outrun it.
Palais des Sports, Marseilles, France, June 29, 1993
We jump ahead a bit into the thick of the Neverending Tour era to find Bob and co. stretching "Tangled Up In Blue" to its breaking point. This 12-minute excursion is a wild ride, to say the least, with a funky backbeat and scratchy/skronky guitar duels erupting between Dylan and JJ Jackson. It's a mess, but a thrilling mess nonetheless — and when the players all collapse at the finish line, it's kind of hilarious, too. Bob wants to jam!
The Anthem, Washington, D.C., November 14, 2017
Twenty-five years later, Dylan is still on the road, headed for another joint — and "Tangled" is still getting reworked. The latest arrangement is close to unrecognizable at first; its bouncy feel and radically altered chord structure must've had even aficionados scratching their heads at first. No matter. Bob sells it, making the story new again, finding fresh nuance and detail (and still adding new lyrics into the mix). There are those who'd prefer Dylan to be a human jukebox onstage in his latter days, but he's clearly more interested in making us actually listen even after all these years. Take it from Bob: "Yesterday is dead and gone," he sings at the end of this 2017 performance. "And tomorrow might as well be now." words / t wilcox
Related: Bob Dylan: Blood On The Tracks – The New York Sessions
Aquarium Drunkard is powered by our patrons. Keep the servers humming and help us continue doing it by pledging your support via our Patreon page. For heads, by heads.