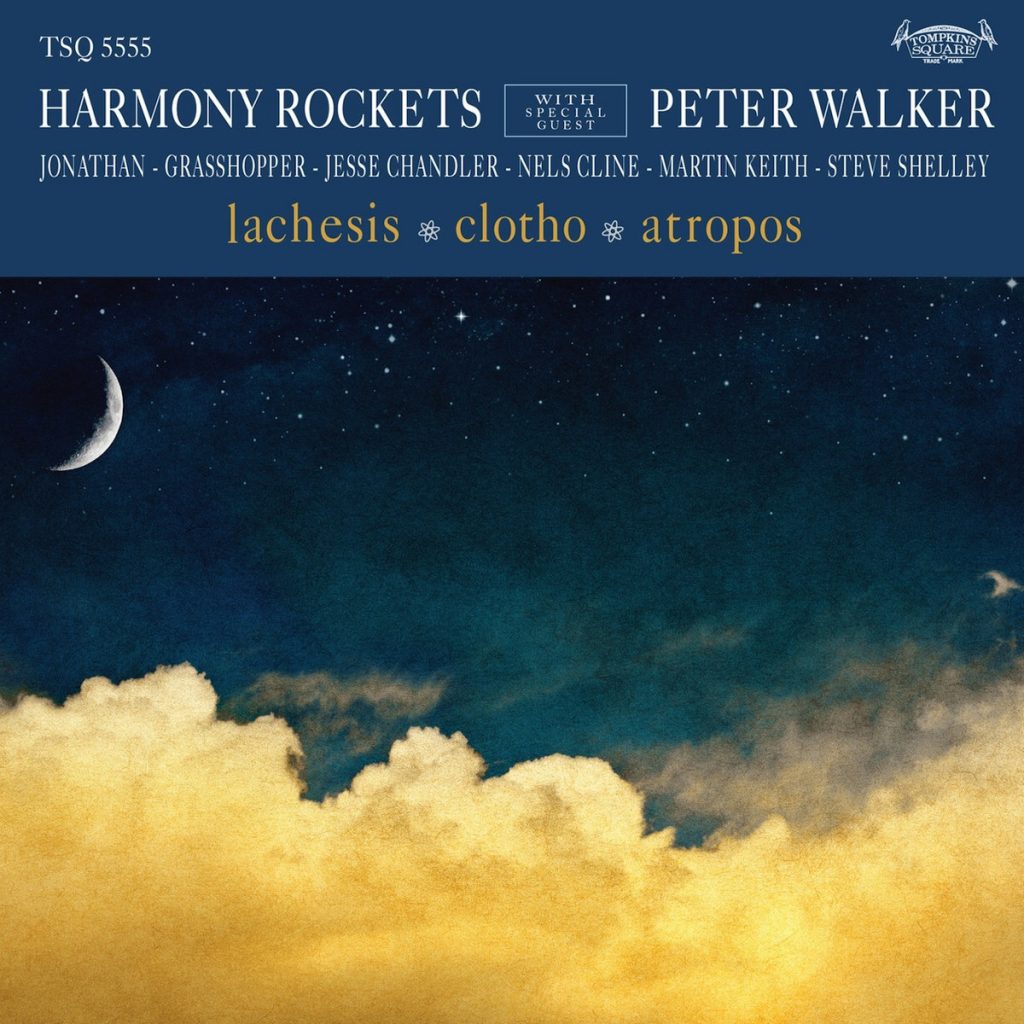 Last year, stalwart label Tompkins Square quietly released Harmony Rockets' Lachesis/Clotho/Atropos, a collaborative album featuring a stunning constellation of players: Jonathan Donahue, Grasshopper, and Jesse Chandler of Mercury Rev, avant-folk guitarist Peter Walker, Steve Shelley of Sonic Youth, Wilco's Nels Cline, and bassist Martin Keith. Over the course of three extended jams, the combo connects the textures of psychedelic rock to the spiritually seeking blend of flamenco and raga Walker has been playing since the '60s, when he provided soundtracks to Timothy Leary's Acid Tests. These songs swell and deflate, like rising and falling breaths, and when the group locks into a crashing groove, the effect is mesmerizing and electric.
Beyond the sound of the band, there's the sound of the record itself to take into account. It's a stunning sonic achievement, a remarkable set of sounds captured and released in high definition, a first for Tompkins Square, owner Josh Rosenthal notes. This year, Mercury Rev is set to release a tribute to Bobbie Gentry's The Delta Sweete, featuring Hope Sandoval, Vashti Bunyan, Laetitia Sadier, Margo Price, Norah Jones, Beth Orton, and more. If the collaborative nature of the band's efforts with Walker, Cline, and Shelley is any indication, The Delta Sweete will be another true meeting of minds. Rounded up here, a selection of technical notes about the former album's genesis and creation from behind the scenes.
Editor's note: Peter Walker's home in upstate New York burned down last year; a Gofundme campaign has been launched to help him rebuild and restart. Please contribute if you can.
Ted Young, recording/mix engineer, Think Tank Studios: This project was an attempt to catch lightning in a bottle. All these songs were recorded in one or two takes, all improvised, live in the same room with Jonathan conducting the group. It could have easily not worked. I had read an interview years ago with Niko Bolas about the technical challenges of recording Neil Young's Freedom, as Neil likes to record everybody live in the same room. His solution was to tight mic everything with very directional mics so that they wouldn't pick up too much bleed from the other instruments in the room. It's a very utilitarian approach that I've incorporated over the years. The concept is that the gear you're using to record is stable, rugged and dependable, so when you're in a situation where you have to get it in one or two takes you're not worried about anything malfunctioning or overloading or failing or picking up too much bleed—all things that have a greater chance of happening when you're using higher end microphones. I don't think there was a microphone in that room that was more expensive than a $300 Shure SM7. All that being said, the magic is in the bleed and the interplay between these incredible players and their instincts. It's a very similar approach to recording a jazz album. Everyone is there to play and be as creative as possible. Let the technology be as transparent as you're able to control and the creativity will transcend any technical limitations.
Carl Rowatti, Joe Lambert Mastering: This record was cut on a highly modified Neumann VMS-70 mastering lathe. The lathe is retrofitted with a Technics SP-02 direct drive motor specifically designed for the Neumann lathe. This motor in addition to reducing rumble also reduces wow and flutter to approximately 1/1000 that of the conventional motor. The net result is a record that has enhanced sonic definition and clarity. Pitch and depth control is precisely maintained by a Zuma disc computer that continuously monitors program level, phase, and frequency while adjusting recoding pitch and depth of cut to maximize the available space on the surface of the disc, eliminating overcuts and preventing unnecessary wasted space between grooves. This ensures maximum recorded level with superior tracking characteristics. The lathe is fitted with a Neumann SX-74 cutter head driven by a Neumann SAL-74B cutting rack capable of 550 watts per channel, far more reserve power than is required for cutting a master lacquer.
Josh Rosenthal, Tompkins Square founder: This one was fun for me because I basically just dreamed it up. I knew that Peter Walker lived in Woodstock and Mercury Rev lived in Kingston. I was wondering what would happen if they got together. I worked with Mercury Rev during my years at Columbia Records in the early '90s. But I hadn't talked to them in 25 years. So I asked my friend Doug Wygal at Rocket Number 9 in Kingston, "You ever see Grasshopper around ?" He said he came in the store once in a while. I said, "Next time you see him, tell him I'm looking for him." And then I got them together with Peter, and they clicked. Then the band recruited Nels and Steve. I love the inter-generational interplay that goes on here, and you can feel the Woodstock vibes. It is magical. It's one of my favorite records I've ever been involved in.
Recommended reading: Peter Walker :: The Aquarium Drunkard Interview
Aquarium Drunkard has launched a Patreon page, which will allow readers and listeners to directly support our online magazine as it expands its scope while receiving access to our secret stash, including bonus audio, exclusive podcasts, printed ephemera, and vinyl records. Your support will help keep an independent cultural resource alive and healthy in 2019 and beyond. Pledge today, and find us on Facebook, Twitter, Instagram, Spotify, and Mixcloud, and sign up to receive our weekly (Sidecar) newsletter.