Guitar and drum duos run rampant in experimental music: Gunn-Truscinski Duo, MANAS, 75 Dollar Bill, Chris Corsano & Bill Orcutt and Jim White & Marisa Anderson. Extend that out further and you can incldue duos that feature a stringed instrument paired with drums, including Flower-Corsano Duo and Xylouris White. These instrumental two-pieces represent many different sounds and expressions within the world of exploratory music, from confrontational to quietly resilient to ecstatically reaching for the stars.
Scott Bunn for Aquarium Drunkard conducted an interview series to explore the nature of the duo, talking with musicians to understand why they have the impulse to act as a duo instead of a larger band. This series presents conversations with six musicians — three guitar players and three percussionists — to draw out the common themes of various instrumental duos and compare and contrast the results of these collaborations. | s bunn
The first of two posts in the series features conversations with Steve Gunn, Rick Brown, and Jim White.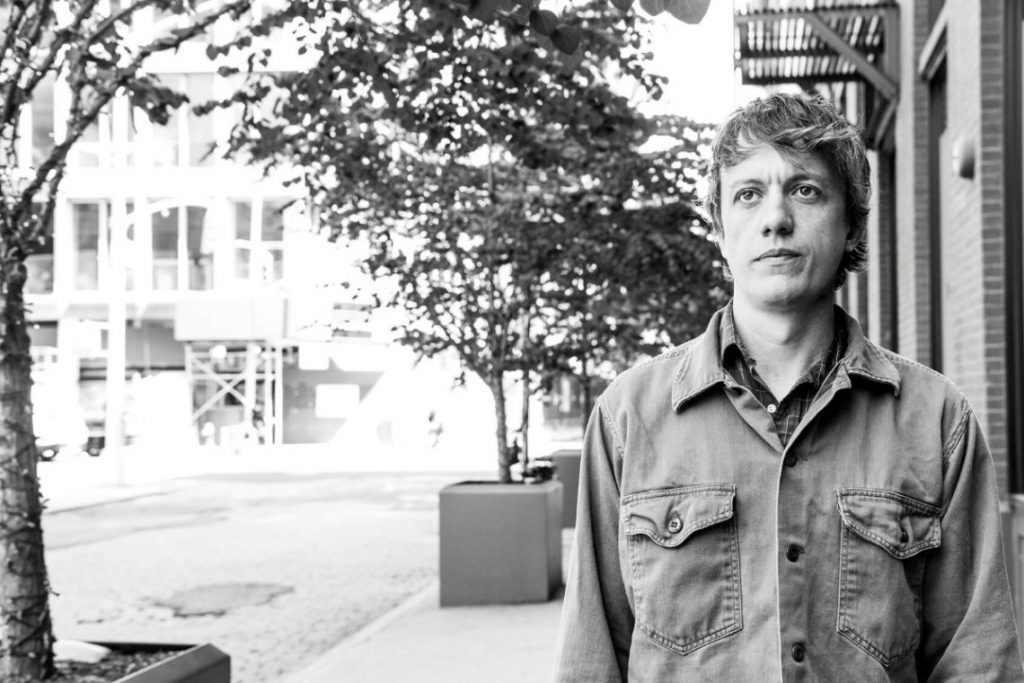 Steve Gunn
Steve Gunn is a guitar player and singer-songwriter whose body of work includes solo releases that have received an increasing amount of critical acclaim. Throughout this trajectory, Gunn has maintained a working relationship with percussionist John Truscinski, working as Gunn-Truscinski Duo since their first release in 2010. The duo changed their approach by welcoming a third person into their process, releasing the album Glass Band in summer 2023 with guitarist Bill Nace.
Aquarium Drunkard spoke with Gunn about his history with Truscinski, how Sandy Bull influenced their sound, and the duo's recent collaboration with Nace.
Aquarium Drunkard: How and why did you and John Truscinski start as a duo?
Steve Gunn: It's interesting to think about, because we met when we moved to New York, and we immediately clicked because we both came from similar backgrounds. We were into hardcore music, and we loved rap music. We also loved improvised music. We were deep appreciators of all kinds of stuff back then. Back in the early 2000s, here in New York, there was a lot of music happening within different kinds of groups. At the time, [the downtown New York venue] Tonic was still open, and there were a lot of improvisational bands happening. John and I linked because we were playing with other people. I think the first time we played together was with a few others, so there were four or five people just kind of jamming. John and I kept in touch and kept talking, and, after about a year or two doing that, we decided, "Hey, why don't you and I just get together and play." I think because, at the time, we were really exploring our playing a lot, and we were into practicing a ton, so it came out of this thing where we wanted to work together as players. It wasn't like, "Let's just get together and smoke a little grass and jam." I mean, that's fun too, but we were really serious about playing. I think a lot of the other people weren't that serious, and that's totally fine, of course, but [John and I] found this kinship.
It also was cool because gathering a bunch of people and personalities to work on music is nearly impossible. We developed this language between each other, this trust that we wanted to explore. I wouldn't say it happened by accident, but it happened naturally. We found that we were saying, "Screw it. Let's just you and I do this because everybody else is not around or is in five other bands. Why don't we play three times a week or however many times a week."
It's so funny to think about because [in the beginning] we played a ton, and we came up with these really insane arrangements and [had to] memorize these really long pieces and all these changes. I remember recording them in the studio and having all this stuff written out. I couldn't do that now. This was an interesting time. I think it was a lot of woodshedding and stuff like that for me. We decided that, with the two of us, it was simple. It worked and we formed a really close friendship. While we were doing the duo stuff, we still were playing with other people, but we always kind of went back to each other, which, in retrospect, was really great to have.
AD: I have a bunch of questions about the inspiration for the forming of duo — about the sound, the personal dynamic, business decisions — but it sounds like it's like all three of those things concurrently. Not just one thing, right?
Steve Gunn: It certainly was about the sound. To cite a musical example for me and for John, there's a track by Sandy Bull with Billy Higgins called "Blend." At the time, I wasn't really into the solo guitar thing. I didn't really believe in that trajectory, the sort of virtuosic "Here I am" thing. John and I talked about this Billy Higgins/Sandy Bull track a lot. We said, "Wow, we should try to do this." Where it's not a band per se, but we're exchanging in this really simple way. I really needed that. I didn't want to just be in my little room playing complicated guitar stuff. I wanted to hear things and talk about music and share music with each other and talk about drumming. It was this facet of our friendship and it still is. I think back then I was trying to kind of get away from just being a solo artist. I hadn't started singing yet. That kind of came a little later. Originally, John was kind of involved with that as well, and that helped me figure some of that stuff out. But, also John and I've still been doing the duo thing, which is pretty interesting.
AD: You mentioned your solo work. Each solo album seems a little bit bigger. But you also return to the duo. What's the impulse to return to working with John after playing solo or with a classic band? Was it always a break in your solo trajectory? Or was it that you wanted to just hang out and make music with John again?
Steve Gunn: Yeah, I think it was because we've always been so close, so we always knew we'd get back to it. There are times where we wouldn't be playing a lot. John moved out of New York, so there's a little bit of distance. But we've always thought it was important to keep playing because we're always discovering new things and trying different stuff and our styles have changed over the years and our lives have changed. So I think it's a really cool constant in our friendship and has always been a foundation for me. [It's good] to take a break from some of the other things that I was doing, and just get into all the music that we do. We have to feel what's happening. I think that's when we played best is when we were able to let ourselves go. A lot of times, with some of the other stuff I was doing, I wasn't really able to do that. It's nice to reset after years of being on the road and playing festivals and all this stuff, but this was another important part of who I am as a musician. I've always felt that it's important for me to do all these things that I do and not lean on one thing or the other. I like to think that all the different styles are part of one and I get the ultimate satisfaction in doing it all.
AD: Now you have a new record called Glass Band with John and Bill Nace. It's billed as Gunn Truscinski Nace. Obviously, you're not a duo anymore. How did this new collaboration happen? Was it a deliberate decision to add a person to change the dynamic?
Steve Gunn: John and Bill are really close friends. They've been close friends for a really long time, and they played in bands together in their late teens. They also played in this group called XO4. Those guys are all very close. I met Bill through John. We all sort of have a similar trajectory as far as where we come from and what we're interested in. Bill is such an amazing improviser and has been for a long time.
There was an opportunity to make a soundtrack to a Warhol film. Bill has a group called Body Head with Kim Gordon. The four of us — me, Bill, Kim, and John — made this live soundtrack to an Andy Warhol film called Kiss. We performed it at the Warhol Museum, and we made an album and the museum released the record. We did have plans for a bunch of shows and then that fell apart with the pandemic and the bottom kind of fell out of that whole project.
Fast forward a few years and it's hard to pick up the pieces, but we still really wanted to play together. John was living in Rhode Island and my friend recommended this great studio in Rhode Island [which is] very close to where John lives. We kept talking and we said we should play with Bill, get up there, and try it. So we spent a bunch of days there. We didn't have an agenda or a solid plan; we just laid out for three full days. This [album] is the result. It was easy for the three of us to spend about a weekend at the studio, and it was really fun. Similarly, we have this support from Three Lobed Recording, and we said, "Let's just play and see where this goes." It ended up being incredibly experimental and trying all different kinds of stuff. The engineer was really open to different setups, and we were pretty happy with the results. It's a special record for us.
AD: I'm sure that you and John Truscinski have developed a shorthand over the years. How was it working with a third person? Did you find that you and John needed to be more specific in your communications to ensure to include Bill?
Steve Gunn: Yeah, it was cool. Again, John and Bill are so close. There's this kinship or a kind of brotherhood and trust there. Those guys have played together before, and they have this sort of familiar thing. And, I'm such a huge fan of Bill's playing, and I consider him a friend now as well. So the combination of experience and the friendship within the project, I think we were just honestly excited for all three of us to be in the same place and to be able to catch up and just play.
AD: What are you guys thinking about the future, in terms of both the duo and now the trio and then your own solo work? How are you moving through these different collaborations and different work?
Steve Gunn: I've been writing. When I'm home, I'm always working on music. I've been writing a bunch of songs, and I'm gonna make another solo record pretty soon. I'm in the planning stages of that. John and I just hung out last weekend, and we're all in touch. We're going to be playing some gigs after the record comes out. Nothing crazy and we're not going to go on tour or anything like that, but we'll probably play on the East Coast and perhaps the West Coast, at some point. What's so great is there's a lot of freedom with what we're doing, that's really important, the functionality of it. But the music is this really beautiful, open-ended thing.
AD: Is there anything else about this sort of dynamic as a duo that maybe I've missed or you wanted to add?
Steve Gunn: Well, for us it's this personal connection, but we really value the fact that Cory [Rayborn of Three Lobed Recordings] has supported us for so long, and we're able to make records. [John and I] have finished a new duo album that'll come out early next year. [Our music] keeps evolving and changing.I think we're going to make music that's even a departure from some of the stuff that we've done in the past. To me, it's a special connection that is still gratifying.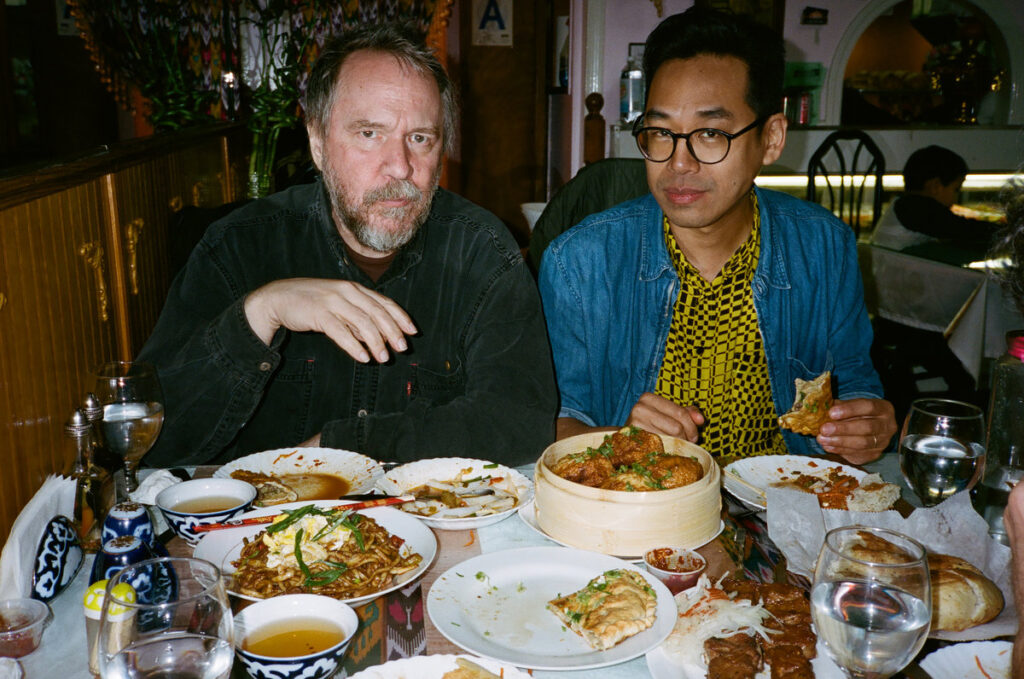 Rick Brown
Witnessing a live performance of 75 Dollar Bill is a fascinating and exhilarating experience. Led by Che Chen on combustible modal guitar and percussionist Rick Brown, mostly playing a plywood crate, the band is a duo at heart, though they expand to larger numbers of performers when possible. They produce a sound that— in Alan Licht's words— is "geared towards hypnosis."
Aquarium Drunkard emailed with Brown about the beginnings of 75 Dollar Bill, expanding the band with additional players, and gently wondering whether guitar-percussion duos are actually a trend.
AD: How did 75 Dollar Bill start as a duo?
Rick Brown: My wife Sue Garner and I had a frequent/irregular jam session with friends going in the early 2010s and, having seen Che in the duo True Primes, I wanted to get to know him better and think about playing together. I invited him many times. Once I finally wore him down, he came to a couple of sessions and fit in well (and, I believe, enjoyed himself). At one of these, I used the plywood crate I'd found on the street as a percussion instrument. Soon after, Che asked me if I'd like to get together, just the two of us, to try out some ideas he had for guitar that he thought would work well with my simple wooden instrument. Things came very easily for us with this combination. We played together a lot for a few months, trying out a lot of ideas and allowing me to work on getting some variety of sounds and grooves to go with his guitar ideas.
This fits a pattern for me, personally: I feel like in most of my musical endeavors, the instruments used are a very big part of where the music goes. I tend to use whatever I have available.
AD: Why did you initially start as a duo? Was it about the sound that the two of you produced? Was it about your personal dynamic? Was it a business decision because there is less to manage with only two people? A combination of all three?
Rick Brown: Yes, Che and I share the "business" decisions as well as the other less fun non-musical junk. To be honest, Che takes more of the burden of the grunt work of booking, shipping Bandcamp orders, networking, writing bios, and promo junk than I do, but I get my hands dirty, too.
I'm sure there are analogs in the history of music, but our structure is fairly unusual, I think. We're still a duo, touring that way normally and playing most often in that form. But we have been working with other musicians to varying degrees since nearly the beginning. While it can be challenging to keep two or three versions of the group rehearsed, we really like having the flexibility to expand and contract like this.
Continuing to play as a duo is due to a combination of the factors you mention: we think it sounds good, we have developed a good musical working method over a decade, and it is certainly easier to "manage" than a larger group. So far, the financial constraints have made touring with a larger group impractical, but we have done a few excursions with various groupings, from trios to our "75 Dollar Bill Little Big Band," which is an eight to ten person version that we have been concentrating on quite a bit lately. We've recorded as a ten-piece for a new record we expect to have released in early 2024 and hope that [this] release makes playing around easier.
AD: You mentioned having guests in the earliest instances of 75 Dollar Bill performances. What was the decision behind that?
Rick Brown: I guess it's true that the earlier instances of other people playing with us were thought of as guests (friends!) joining us, but by now the "Little Big Band" has a pretty stable line-up. We don't consider these folks "guests" anymore, really.
AD: Expanding the group to the "Little Big Band," was that a conscious decision to achieve a specific sound, or was it a desire to play with the individual players, or something else?
Rick Brown: As I said above, we play more often as a duo than not, but we try as much as possible to find opportunities for the larger group. The actual instrumentation of this larger band has come about pretty organically. We're lucky to have these good friends we like to be around and play with, who just happen to be compatible musicians playing instruments that fit in. We did push our friend Barry Weisblat to pick up the cowbell to play with us since, even though he'd never done it before. We figured he'd get into it. He's now a crucial part of what we do, and we take advantage of Barry's live electronics to a degree, too.
AD: Now when you and Che play as a duo and not with the "Little Big Band," do you find that the music changes? Do you improvise more or extend songs? Any kind of adjustment that you find yourselves making since it's only the two of you again without the full band sound?
Rick Brown: We do have a few pieces that only come out for duo gigs or which have been tried with larger groups but just work better as a duo. But most of the Little Big Band repertoire so far can and often is played in our duo gigs. In a sense, there's naturally more space for improvisation with just the two of us, but, on the other hand, my rhythm/support role becomes more crucial, usually, since it is often a platform for Che's playing. This can sometimes lead to extended versions, but in other cases, pieces become more concise. In general, I guess it is true that we take more liberties and "stretch out" a bit more as a duo.
AD: Anything else on the dynamic as a duo that you want to comment on or is there something that I've missed?
Rick Brown: While there may have been a recent mini-explosion of guitar (or similar instrument) and drum (or percussion) duos in recent years in the ill-defined area of "experimental music," the format is not rare or new in the bigger picture of things. While Che and I [and other duos] often subvert the norm, it is very natural for a solo melodic instrument to have a percussion player as support.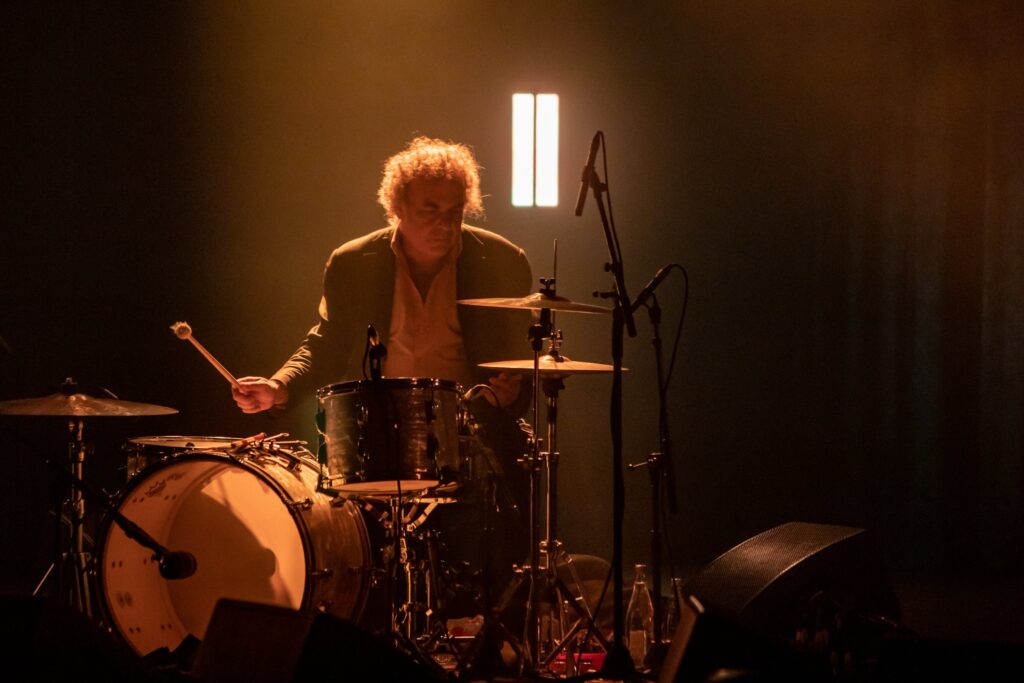 Jim White
If there's one person who knows about guitar and percussion instrumental duos, it's Jim White. Since rising to prominence with the seminal and essential Dirty Three, White has played with an impressive array of songwriters and experimental musicians (e.g., Bonnie "Prince" Billy, Cat Power, P.J. Harvey, Bill Callahan, to name only a few). Throughout these multifaceted collaborations, he commands space for his unique sound while also understanding the exact feel required for a song or piece to breathe and come alive.
Aquarium Drunkard emailed with White about how he approaches improvisation, compensating at the bottom-end when playing without a bass, and his many two-piece collaborations, including Xylouris White, Marisa Anderson, The Double, and many more.
AD: You've played in many duos. What is it about playing in a duo that appeals to you?
Jim White: I think they have to be addressed separately. I think there's a reason for everything I do.
Tren Brothers was the first duo that I recall; that's [guitarist] MIck Turner and myself. We've played together most of our adult lives, first in Venom P. Stinger and then in Dirty Three. When I wanted to form a band, which became Venom P. Stinger, I really wanted Mick Turner and Dugald Mackenzie (both from Sick Things) to be in it.
Mick and I play together naturally in a way that comes from developing together and playing hundreds, if not thousands, of shows together. Tren Brothers came about when Dirty Three were thinking about making an album at the then new Electrical Audio studios. Mick and I were living in Chicago and Steve Albini offered us to try the studio for half a day, and so we made the Tren Brothers EP (with Greg Norman engineering). One aspect of [that] band is, at the time, Mick had been mucking around with a loop pedal when loop pedals had fixed length loops. So there were gaps between the looped phrases [for] an extra few seconds. I was simultaneously trying to work on this idea of these fluttering drums, (which are in-time and out of time at the same time) and the two went together in a unique way. I made the fluttering the solution to the loop gap, and the loop gap provided a context for the fluttering. This found further expression on [Dirty Three's 1998 record] Ocean Songs, sans the gap and loops.
Another kind of approach on the Tren Brothers EP is exemplified by "Last Song Detroit," where we play without needing to be on the rhythm schedule in terms of the length of phrases. I think the simplicity of the duo allowed us to be able to introduce these free and ambient aspects and still have it make sense, sonically and mentally. I could bring it elsewhere in my playing.
Another duo I did was with Nina Nastasia. It was a conceptual solution to a practical problem and a challenge to have the drums fulfill all these emotional and harmonic-type roles of accompaniment. To me, it worked really well, and I love the resulting album You Follow Me.
With Xylouris White, George Xylouris is a master rhythm player, among many other strengths as a musician. I like to play some melodic-type content in my ideas. George spent his early years being an accompaniment for the Lyra player; first, his dad, and then others in Cretan music. I think the two-piece opens up a lot of space for us. I think I became a better player playing with a  rhythm player like him. Our two-piece feels like three to me; there's always something going on aside it. 
AD: How did you meet George?
Jim White: George used to play with Dirty Three on occasion, especially when we were all in Melbourne way back before Dirty Three left to travel forever and before George relocated to Crete. I discovered the Cretan music of his and his father and so did Warren [Ellis, violinist for Dirty Three] and Mick. I went to visit George in Greece many years later, and we decided to play together while I was there. It seemed like an opportunity and a way to visit. I think it was Shelagh's idea, in many ways. Shelagh is George's Australian wife, who I've known since I was a child. She's a big music person. George's dad (Psarandonis) asked me to play with him and George at an All Tomorrow's Parties festival on Mt. Buller [in 2008]. I did and I have played with him on other occasions. It's an amazing experience, and he remains one of my all-time favorite musicians. But it also solidified for me what George and I should try to do: the two often-rhythm instruments in another element. It's always been pure musical fun and excitement when we play.
AD: How has your approach with Xylouris White changed over the years?
Jim White: We started instrumental with our first album and ended up back there on our fifth album, The Forest in Me. Both [are] significant albums for us in forging new territory. That's telling. In some ways, not having a [singer], we are freer. Not to be free and wander about, but to let other things come to the forefront and be focused on. Things that are different than the word structure imperative of the couplets or melodies of the mountain shepherds, as great as they are. On The Forest in Me, we also freed ourselves from the dance structures. Is there something else there when that's uncovered? Yeah, there is.
AD: What was the impulse of adding musical voices to Xylouris White and expand beyond the duo format?
Jim White: We have had guests such as singer Dee Hannan and bass players: Thierry Amar, Joshua Abrams, and Emmett Kelly. [Also] Fanis Karoussos on Hammer dulcimer. We brought Guy Picciotto into our band. He's been there since early on, recording us with an increasing role over the years to [eventually] being a co-writer on the last record. That's been fantastic. There's still the freedom of initial ideas. Guy hasn't played an instrument with us as yet and that would probably be a different band if he did. But he is there shaping it from the same moments as George and I.
AD: As a drummer working with a guitar player or, in the case of Xylouris White, the Cretan lute, do you alter your style to compensate for the lack of bass to get a specific sound in the low end?
Jim White: When I started playing, I spent the first years playing with bass players, particularly Alan Secher-Jensen in Venom P. Stinger. We learnt our craft together — stay on the beat together, you stay there, I go back, you stay there, I go forward, off the beat, and vice versa and in unison — especially where [Secher-Jensen] would sit on the feel and I could move the tension backwards and forwards and be in the flow of it together. I watched the Sun Ra Arkestra play a great show last Sunday and it reminded me of that time [with Venom P. Stinger] in Melbourne and bands like Big Bullets on Wheels and Fungus Brains.
I think I developed the two-headed / no hole / no-deadening open bass drum because of the absence of a bass player and vocalist in Dirty Three and not even a bass drum when we started. That made things both free for me in some ways and also gave a lot of responsibility to all of us to hold a feel down and also to strive for the bottom end where we could. That made the bottom-end a more dynamic thing than if there was a bass player, I think.
Don't forget that the drums don't have a key or a mode. Where the drums might change is a decision not just resting on a chord change. So [in Xylouris White], George and I can play freely and if I feel an imperative for a change. I can yell and something will happen. It's not like I know what's going on for all reality; I know what's going on for me. Being a drummer without tonal pressure and being me — whatever that is — is different and I can play a part across a change to make it how I want to be. I try to influence what's happening for the other musicians. In Xylouris White, it's changed over the years and lately we aren't only on the roller coaster flow of the dance or the melody, [so] lots of spaces have opened up and the dynamics of when we do go to those elements or other things are emphasized.
I can play a phrase — melodic or not — across a tonal change; it could be a hook or some kind of structure that the drums can do in this way due to their nature and the other player in a duo is also free in a symmetrical way.
AD: The Double had/has a very specific goal: for Emmett Kelly to stay on an "E" chord for as long as possible while you sustained the immortal Bo Diddley beat. You've known and worked with Emmett Kelly with lots of different bands and projects over the years. How did you two land on this idea? Why did you decide to do it as a duo and not add other players?
Jim White: We met in the cast of The Letting Go in the location of Iceland for a Bonnie "Prince" Billy album. Later, we spoke about a shared desire of being in a bar band. We got together in a room in Chicago to get inside early rock and roll to see what's what. We played for a number of days and then we heard — maybe you want to call it a mistake or something different. We honed in on it and it was The Double. What had we done?! Was it going to undermine all of rock and roll? We couldn't allow that. Was it going to be an addition to the pantheon? Yes. We proved to ourselves it was what we thought it was: a new way.
We did disco, relaxed tiki double, an ode to Jonathan Richman double, Texas boogie double. It was sweet. It was hard. It was innocuous. It was in your face. It was not a new idea in so much as a new way, a new air to breathe. We found the purest way to present it: the modern, mind-altering diabolical dance craze you know and think is THE Double, but actually it's A Double.
AD: Can we expect to hear The Double again in the future?
Jim White: We just released "Relaxin' in the Jungle" backed with "Egyptian Double," proof of concept while you enjoy a rum drink, if you will.
AD: Moving on to another project, I know that the idea of a collaboration with Marisa Anderson developed while you two were on the road together. Whose idea was it to join forces? Did you hear her playing solo and instinctively want to add drum parts to the music?
Jim White: Not at all. I enjoyed listening to her on the tour we did together with Xylouris White and Marisa Anderson [playing] solo. I liked her take on what she was doing, and there were some relationships between what we did, not necessarily the obvious ones. I felt we had come somewhere with lots of commonality via really different routes. I didn't think of playing with her at all, but in the car we played lots of music on the stereo that we both had relationships with. We became friends and stayed in touch. At some point, one of us suggested playing together. I don't know which of us. It was an experiment after which we committed to go to a studio to make what became The Quickening.
Recently, Bill Callahan and I were doing a two-piece of his songs, and Marisa was opening. I sat in the theater and watched her set for the first time since before we'd done all this playing, and I was struck by how similar we play as individuals. I'd never noticed that before. I have no idea whether she'd changed or I saw it differently or it was that day, or all of [these reasons].
To give another example of who said what, when, etc., I recently had this feeling we should play with a particular singer, and I mentioned it to Marisa and she said, "Yes, I love that singer and would like to try that." I decided to wait to ask the singer because I had a feeling. A few days later, the singer asked Marisa if she and I would consider playing with her. I had a feeling this might happen, which is why I was waiting to ask.
AD: That's fantastic! I understand that your work with Marisa is improvisational. When you play together, who starts with the initial musical idea? Are you usually responding to her, vice versa, or does it alternate?
Jim White: Imagine I hit the drums first. Do I know what's going on with what I'm gonna do? Sure, I might have an idea before, but I also might just move my arms and legs around in a way that feels good at the moment. Or, maybe I meant it perfectly. Whatever. What happens then in one of our duo shows? I listen to myself in whatever way I do that and then I respond for whatever bunch of reasons or non-reasons. If Marisa was the one who did that and then I heard her, I'd do the same, I think. Or, think of it another way: we might be in two separate boxes and we can't hear each other and then the partition is lifted and we merge. To mix metaphors, the currents of the two streams are still seen in the combined flow, but they give and take to accommodate each other and themselves. I guess to the question: someone starts, either one of us, or both of us. I'm not even saying that's what happens all the time. It might.
Aquarium Drunkard is powered by our patrons. Keep the servers humming and help us continue doing it by pledging your support via our Patreon page.