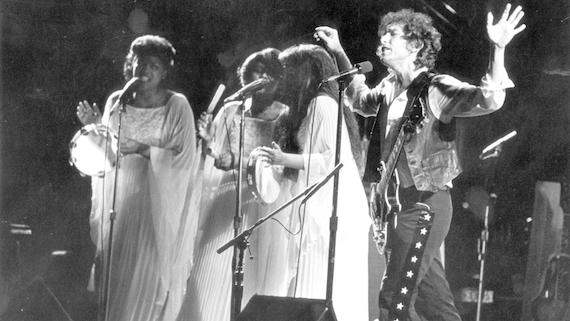 As anyone with a passing knowledge of the life (lives?) of Bob Dylan knows, in late 1978, the singer-songwriter had a born again experience, and devoted the next few years to writing and performing (mostly) gospel material. But let's not talk about Jesus just yet. Let's talk about the incredible band Dylan assembled to take his new music to the people during this period – a group of stellar musicians who are finally given their due on the latest edition of the always essential Bootleg Series, Trouble No More.
Those who splurge on the deluxe edition of the set will have the chance to bask in six discs of choice live recordings from the Gospel-era band (the more affordable two-disc set cherrypicks highlights), alongside two additional discs of previously unreleased studio, demo and rehearsal tapes. The all-star rhythm section of Jim Keltner and Tim Drummond provides the beating heart here – a firm but flexible groove that at times is as swampy and sleazy as the funkiest southern R&B and at others Sunday morning service-ready. The soulful twin keyboards of Spooner Oldham (later replaced by Willie Smith) and Terry Young add to the tent revival feel, and Fred Tackett's sterling guitar work is a pleasure throughout. And of course, the troupe of background singers (including Clydie King, Gwen Evans, Mary Elizabeth Bridges, Regina McCrary and Mona Lisa Young) add the perfect blend of grit and polish. In short, this band smokes, and deserves to be mentioned in any discussion of Dylan's greatest backing groups.
Bob himself responds to his group's passionate and precise attack with some of the most powerful and open-hearted performances of his career. In 1979 and much of 1980, Dylan was presenting an entirely new repertoire to live audiences – he didn't have "Like A Rolling Stone" or "All Along The Watchtower" to fall back on for an easy standing ovation (older songs would slip into the set in late '80 and '81). During those early shows, he really has to sell these songs to crowds that are often pretty skeptical about their hero's newfound love of the Lord. So throughout Trouble No More, we get some dazzling Dylan vocal gymnastics, whether he's spitting fire on "Gotta Serve Somebody" and "When You Gonna Wake Up" or reaching astonishing heights on deeply felt renditions of "I Believe In You" and "Pressing On." The highlights are too many to note here, but suffice to say, Dylan delivers the goods, time and time again. The only misstep on the part of the compilers here is to leave out Dylan's fire-and-brimstone sermons from '79 and '80, which may turn non-believers off, but possess their own very Dylan-esque music. Oh well, there are always the bootlegs.
Trouble No More's studio discs are packed with delights as well. There's a gorgeous, previously un-bootlegged version of "Caribbean Wind" featuring longtime Neil Young cohort Ben Keith on pedal steel. There's a slow-burn unreleased song "Making A Liar Out Of Me," with some the era's most stinging lyrics. Maybe best of all is the sublime rehearsal recording of "Every Grain of Sand" that brings disc four to a fitting close.
Some listeners will still find Dylan's occasionally hard-line Christianity a bit hard to take ("Ya either got faith or ya got unbelief and there ain't no neutral ground," he sings in "Precious Angel"), but they'll be missing out on some truly fantastic music. Whatever your personal relationship with Jesus happens to be, Trouble No More remains an indispensable chapter in the ongoing Bob Dylan saga. You don't need no ticket for this slow train, you just get on board. words / t wilcox
Related: Bob Dylan: Slow Train & City Of Gold — San Francisco, CA, November, 1980
Only the good shit. Aquarium Drunkard is powered by our patrons. Keep the servers humming and help us continue doing it by pledging your support via our Patreon page.